The chance to rectify a 2-match losing skid presents itself with a daunting task at San Mamés.
Our midweek fixture had Sevilla pick up from where they left off the preceding weekend, with a barrage of goal attempts at the opposing goal. Thankfully, it had begun early against Rennes, as Munir hit the woodwork with only 6 minutes played. But despite the 23 total attempts, only 1 found the net. Perhaps we can attribute that to a lack of sharpness, but Lopetegui's Sevilla is not yet known for scoring routs. They have scored more than twice in LaLiga only 4 times last campaign.
Without looking too deeply into the stats, we can at least presume that Sevilla took a step in the right direction with their overall play. It will certainly take more than a game against a depleted French side to back that claim, but the positive signs were there. Many balls were sent long to the left channel to find Acuña, including the move that led to the game's only goal. With 'El Huevo' beginning to settle in, we can look forward to attacking from more angles, and avoid an over-reliance on Navas' right side. The result may have also coincided with the return of Jules Kounde to the starting lineup, which almost always guarantees a clean sheet.
We can disregard the fact that Athletic have lost 3 of their last 4 matches, since our opponent's form is often irrelevant when it comes to how well we play. Virtually every victory has been hard-fought, especially this exact fixture last season. It was our first league win in San Mamés in over 10 years. We are without one of the main protagonists from that triumph in Éver Banega, but Lopetegui is seemingly still seeking his best XI. Or has he already found it?
A similar squad list has travelled to Bilbao, without a frozen out Gnagnon, and Gómez, Suso & Idrissi all nursing muscle injuries.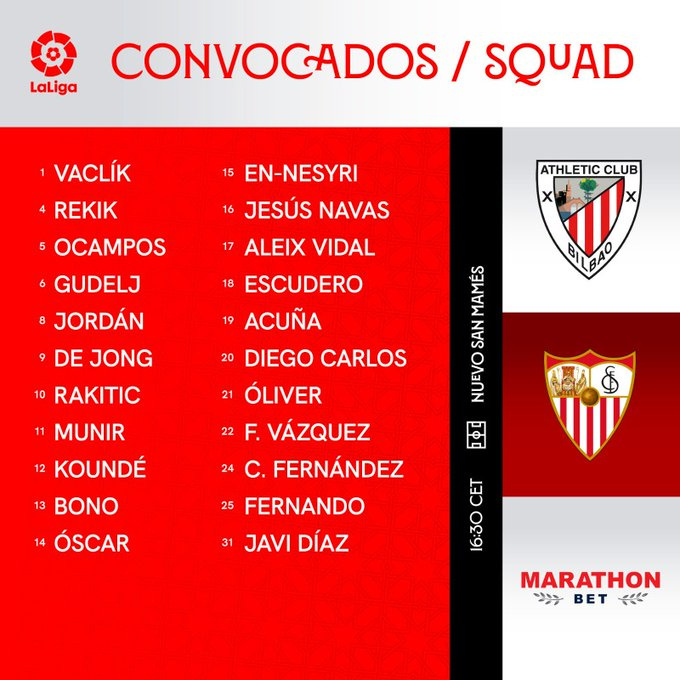 La Katedrala has never been a ground where 3 points are even remotely close to a possibility. But this game may have arrived at an opportune time to determine if we are serious. Our league form has stumbled a bit of late, but big teams manage their way through adversity. We staked our claim to a Champions League place at this stadium last time around. This time, will we assert our standing as title contenders?
#VamosMiSevilla
#NuncaTeRindas