Chelsea scored in the 37' Krasnodar's keeper with a horrific blunder.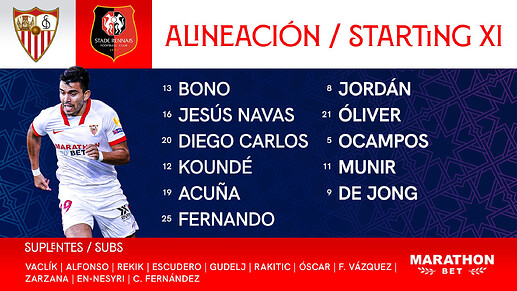 It all rests on Óliver. Hopefully we don't start off too slow this time.
Edit: I just peeped that Suso didn't make the list.

Wait? Don't say you did…
But what him and Navas have going on I quite like. I am with you
Amazed by Koundé starter spot, a decent fit Koundé > others I guess.
Also, I can't avoid getting good hopes and the idea of a solid victory coming up again.
I just always prefer Suso cause he complements whoever is on the other side. Munir often loses the ball & Ocampos likes to take on the world. Hopefully 1 of them will look to combine with Luuk.
This is an excellent line up. Pretty much our best team for me at the moment. Rakitic has been poor, Suso can be a 7/10 some games but a 2/10 in most.
Going for the Win from the off, I love it.

But please, I don't want to discredit Rennes but without their two midfield beasts, has to favour us by a lot. Or how many more do they have?
From what I know Rugani a great defender from Juve. Grenier, a good talent from the youth of Lyon but don't think he fully made what was promised. And apparently Doku, they paid a sum of 26m for, more then anything we have paid. He has to be a dangerman upfront for them. Besides those lots of unknowns for me.
Also Soppy has been rumoured to be on our Radar, very interesting what he can do against us.
Excited to see what Acuña does today. He was one of the brightest spots in the Chelsea match, IMO. Perhaps Sevilla will actually be able to find some strong finishes against Rennes' defense today.
I'm sure glad to have Kounde back today too.
Finally got the front 3 right.
Absolutely, there's a question over Oliver and Acuña but it's a question of who is best choice on the day.
I would like Suso in the second half, but he's not on the bench, nevertheless I have faith in Munir, and Ocampos is considered by many as superior on the right (though he moves around like he owns the pitch)
It's also his birthday.
Wow… surprised with Kounde there, but very glad to see him back in the starting lineup.
Also as Jolazo said, finally Lope got the front 3 right - if this doesn't work then I don't know what will.
Finally vol. 2 - Rakitic is benched… HURRAY!
Hope the guys will be up for it tonight and take the 3 points.
VAMOS!
The man was bored. Let him live.

Just said on TV here Suso is injured.
Yeah, it's true. Live and let live.
Munir and those volleys…

What a hit that was from Munir.
Good start by Sevilla. Nice clearance by Diego Carlos straight into the wedding tackle of Soppy, not tonight josephine. Munir hits the bar, could have been the goal of the week, or month.
Our chances are mostly coming from their mistakes. As long as we keep dictating the tempo we should get more.