Red socks.
Well that's it we've lost!
Each game getting closer to end of the group, and the thing that I assumed would happen, happened eventhough surely the situation could have been way worse. We have made our group become a very tense one, with a lot of pressure on the latest games and not a lot of room left to take it slow, consolidate and see what happens. At one point, we need to get those victories. Meaning, tonight. Because some other 'unfortunate events' or ' uncontrollable accidents' happen in the games after that. That's when you realized how we started these games, has wasted all our chances. Hope tonight is a different one as those before. Vamooos!
In a desperate attempt to reverse-jinx today's lineup:
Bono
Navas - Kounde - Carlos - Acuña
Fernando
Jordán - Rakitić
Suso - Rafa Mir - Papu
Here we go again, Champions League game that we need to win.
Lucky charms all round the TV … check

Valium, Chivas Regal, Cruzcampo … check

Buttocks firmly clenched … check
Might need to modify medication when I see the starting 11
haha Need to get you some of that medical maryjane to calm those nerves.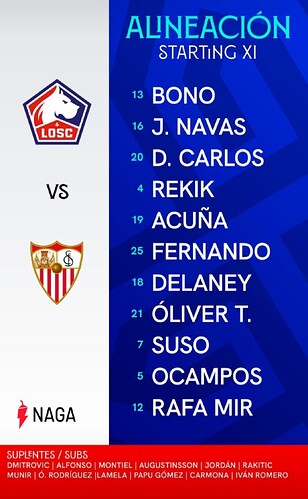 No Jordan and Rakitic pair in midfield, I feel like everyone is happy with that. Oscar still on the bench.
Happier with the line up. The midfield is a bit more balanced and a bit more pace in their instead of the usual 3 DMs. Good to see delaney and oliver get more minutes. I thought Kounde may miss out as lope said he still carrying a slight injury. Rekik has been playing well though so I trust him to do well. I hope carlos is more stable tonight than against Granada.
Overall though it's a strong team, with strong defensive unit and good attacking options too. Suso did play well in 2nd half at celta so I hope he can build on it. We have good options on the bench as well to change things.
A fully fit squad except YEN and kounde who should be back at weekend.
Let's do this! Vamos!!
Delaney + Fernando with Óliver on 10? Or will Delany be asked to play as a box2box besides Óliver?
Not the best, but ain't the worst either. At least we have 2 creators there in Suso & Oliver, as long as they aren't wasteful. Acuña's return helps a lot too. I hope the tempo picks up a lot more from the Celta match.
Koundé not there, that's a pity
Did I just read Suso and creator in the same sentence?
I mean… his attempted shot did lead to the goal on Sunday.

It did, and the fact that Mir was lurking in space to finish it, they all count.
I was so satisfied by how Rafa made sure to stay onside until Suso took that shot.
Salzburgo 3 Wolfsburgo 1 minuto 78
What's up with Kounde? Is he injured?
Good question, I don't know, he travelled with the squad, maybe considered not quite ready.