How can i not call this a preview?
Bless up @ShendM

4-2-3-1
Rafa Mir
Ocampos Papu Lamela
Fernando Jordan
Acuña DC Koundé Navas/Montiel
Bono
Was waiting for this to come out.
Our objectives are :-
Win
Win
Win
There's another objective in fact… and that's WIN… nothing else!
Lope reading these comments as we speak haha

Not sure why after two better looking games, i'm still reading them in Lope Language. I think I had a mental set back.
All defend
Not concede
Aim for one genius move/set piece goal
A Draw is alright
No i'm kiddin, we got it this time! and continue our upward trajectory here tonight! Vamooos mi Sevillaaaa!!
Haha love it. You not wrong though as that sometimes is the sevilla and lopetegui philosophy. Still like you say I'm pleased to see a more proactive and exciting sevilla last 3 matches. As the first few games was not great quality albeit we still picked up decent results.
I'm hopeful for us to balance the 2 styles well but it's nice to see us score some goals and look better to watch in the last few matches.
Well I enumerated because the order is important
Hoping for a win tonight. It's needed after that opening game draw.
We will probably see Delaney since he's out for the league right, I think it was mentioned here before. Or we simply can't miss Fernando this game cuz of the importance, thats what i'm curious about.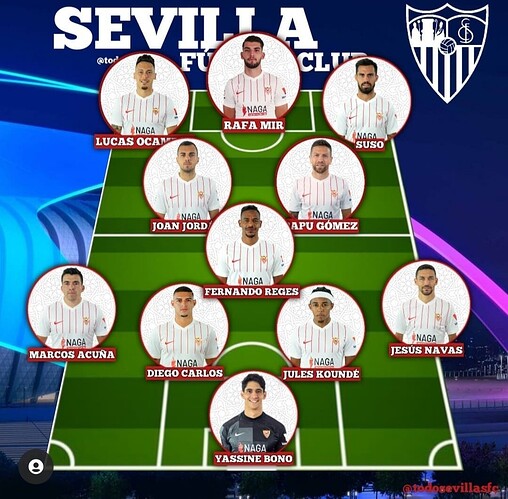 Suso starts again, otherwise expected line up. I would like to see Oscar and Montiel in the first eleven, but it is what it is.
Strong line up. I'd prefer lamela over Suso but other than that it's a good formation and team. Montiel maybe could start over navas too but then again Navas proved last game against Espanyol he still has it, he's experienced and very effective for us even at 35. I expect montiel and Lamela to come on though.
Hopefully we can get the win as it's an attacking team and we have quality players on the bench that can help us out too.
Please. I know Suso hasn't been great, but don't lump him in with those two.
Yeah Lope desperately trying to give Suso the time and confidence to get back into good form. Not sure if thats what we need this game tho.

Here's the sole member of the Suso fan club.
It does enhance the spark when Lamela enters the pitch. The fake sleeping strategy.