Squad announced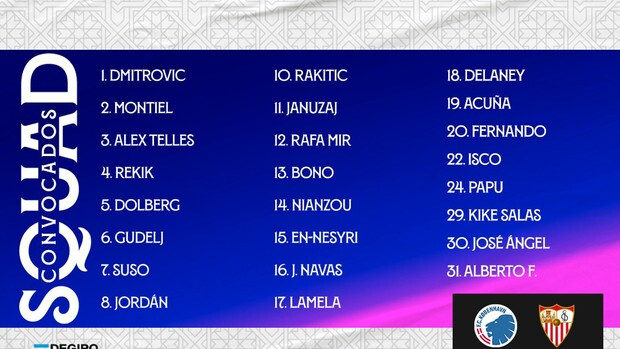 Sevilla U19 lost 4-1 to Copenhagen today


Would like to see Dolberg either start or come on after an hour back in Denmark, with Lamela as another forward/attacker.
Hope Carmona and Salas may continue at the back too.
Need a win here!
Pretty much a much win if we have any desire to move on. I love seeing Sevilla compete in the Champions League, but I am not sure that should be our priority at this point. Even if we move on, our team does not have the depth to have a long run. Sad to say, but our focus should be getting points in La Liga.
Ok, guys, I have an idea. Stick with me here. Lopetegui has experience with la Rojilla or whatever they call the Spanish youth team. Why don't we keep paying his salary and ask him to make sure Sevilla Atlético is promoted this season?
Certainly have missed having a higher-tiered cantera in recent seasons, and I trust that Lopetegui is up to the task of Tercera or whatever they call it these days.
But the moolah, my friend. Each W brings in a week's worth of salary for the whole team, I bet. Maybe more. And if we are able to get out of the group or even drop to UEL, all the more moolah.
That is true…mo' money always helps.
FCK are in somewhat of a crisis in the Danish League considering they are, or at least should be, one of two title-contenders. However, FCK in the league and FCK in Europe are two very different teams. And in a sold-out Parken this will definitely be a tough test. The Danish fans have marked this as a game where they could get away with at least one point. That also means they will be content with a point - something I most certainly hope neither Lope nor the players will be.
I'd say Falk and Daramy will be the ones to watch out for.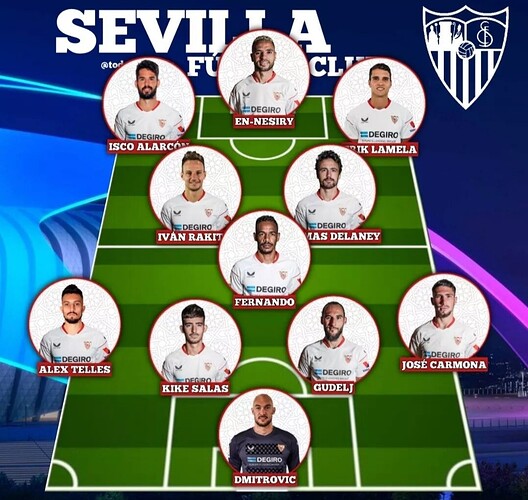 Salas and Carmona again in the lineup! Dmitrovic and Telles part of rotation, surprisingly no Jordan.
What a strange lineup. YEN from the start after playing 90 on Saturday?
And no Acuña in the lineup…
But one of two Danes is in the starting XI.
And I wouldn't be surprised to see Dolberg subbed on…
Happy to see Jordan on the bench, but he'll surely come on in the Second Half if Lopetegui does what Lopetegui does
Let's hope we can do better than last year. Need a win tonight to keep our hopes of 2nd alive and also to at least give us a great chance at reaching 3rd place for Europa spot.
Vamos sevilla!
And the 3 midfielders have combined age of 100, hardly says we are going to play with pace or counter-attacking, plus we got 2x 30 year olds in front of them, so no real box to box player and I am sure JLo realises his mistake in not picking Oli Torres, have little creation to switch play, or maybe he wants the payoff, let's see…VMS!!
Lope to happy with it that it that he underestimates Kopenhagen even, Salas is still a big risk he's not realizing. Shows the idgaf mentality he's having now.
There is a time and place for bringing the youngsters into the fold, and after a disappointing 1st CL game where this is essentially a game where we really need at least 1 point if not 3 this team selection doesn't fill me with enthusiasm…
Humble Club Brugge, belgium team, after losing their star player (banega like) for 35m. Beating Porto and Leverkussen, and pulling ahead in the group, shows whats possible with brave football and good management.