Not so fun fact: We lost this exact fixture 2-3 on the same matchday in the 2013-14 season, where we had this same, extra long pre-season in EL qualification. History to repeat itself?
We're right in the thick of things as we resume the league campaign. Thankfully we're playing at home this time. The other CL hopefuls are within touching distance, so a win here is a must. Coming off a very favourable result midweek vs Barcelona, I don't expect a sluggish start. Especially in La Bombonera de Nervión.
In terms of personnel, there are more woes. Word is that we'll be without Navas for a month and that Escudero has picked up a knock. Contrary to what's in the papers, Machín believes Arana will be staying, and not be sold or loaned out this month, so he makes the squad, by default anyway. The list is as follows: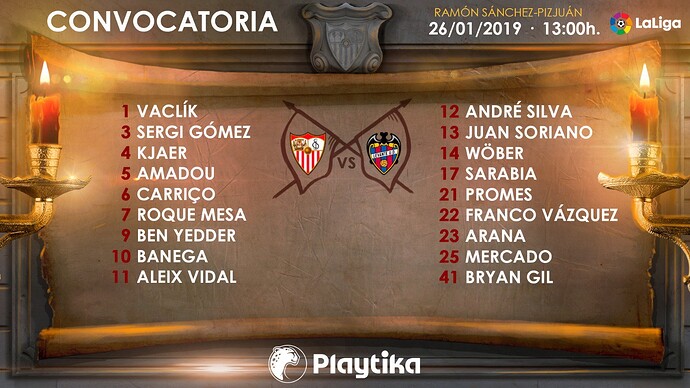 As rotation in midfield is severely needed, it's nice to see Roque Mesa return. We're also a bit light in the attacking department, so maybe one of the strikers gets a rest again. Promes was great last game, but maybe he gets saved for the return leg? I'm also fiending for another Bryan appearance. Let's put this game away early so we can give him that chance.
I surely remember the reverse fixture (we scored 6), but Levante will as well. They might also still be salty over the Copa del Rey fallout. But hey, it's Sevilla FC's 129th birthday, so none shall spoil this party. ¡Feliz cumpleaños!
Lucha por lo que amas.
PS: Let's also remind ourselves that this is just sport, and there are more important things outside of it. The disappearance of Emiliano Sala's flight was disheartening, and i hope his family, and that of the pilot, David Ibbotson, can find peace & solace at a time like this.