In typical Sevilla fashion, we still have a shot at finishing 4th in this last match of the season. We need both Valencia & Getafe to lose though. Athletic can also take 6th spot from us, but need a draw to stay in 7th and qualify for the EL. Our final lineup looks like this: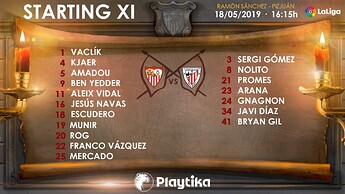 Sarabia was originally in the squad, and probably in the starting XI, but has been a last minute omission. Reasons are still unclear at the moment. Rog & Amadou together in midfield should be interesting. Tough match ahead with key players missing, so really need the RSP for this one.
Vamos muchachos!!
Lucha por lo que amas!