Originally published at: http://monchismen.com/sevilla-fc-v-getafe-la-liga-week-21/

A league match against Getafe at home in late January might not generate the same levels of fanfare and emotion as Tuesday night's epic encounter against Atletico, but it is equally important in our quest to salvage our faltering league campaign.
Our recent resurgence of form under Montella has certainly gone a long way to brining back the feel good factor to Nervion, but even so, we are still in no position to become complacent today. Despite being in 11th place, Getafe are currently only 5 points behind us, so anything less than three points is unthinkable. As was the case last week away to Español, a defeat could see us dragged into the mire of mid table, but a win would help keep us looking upwards and not down.
Above us in the table, Real Madrid look to be gathering some momentum, scoring for fun. Catching them may be beyond us. The good news is Valencia are faltering slightly, however Villareal just can't stop winning, 5 wins out of 5 (including a win at the Bernabeu) and are comfortably ahead of us in 5th place, 5 points ahead! It will take a lot of hard work and good form for us to catch any of the teams above us, and no better time to start than now!
Nico Pareja makes a welcome return to the squad, but I'd be surprised to see him in the starting XI. No Ganso again, who we may recall won us the points away to Getafe earlier in the season, and no sign of MKD either. Both of their careers' with Sevilla look to be over, and with the transfer window about to close we should expect some movement early next week. I will be sad to see both of them go, but midfielders are not something we are in short supply of at the moment, especially now with the news of Roque Mesa having arrived in Sevilla. More news due to unfold over that move in the coming days one would suspect. An exciting signing if we can pull it off.
The starting XI is in, almost the same team as the past three, the most notable inclusion being Ben Yedder back as first choice centre forward;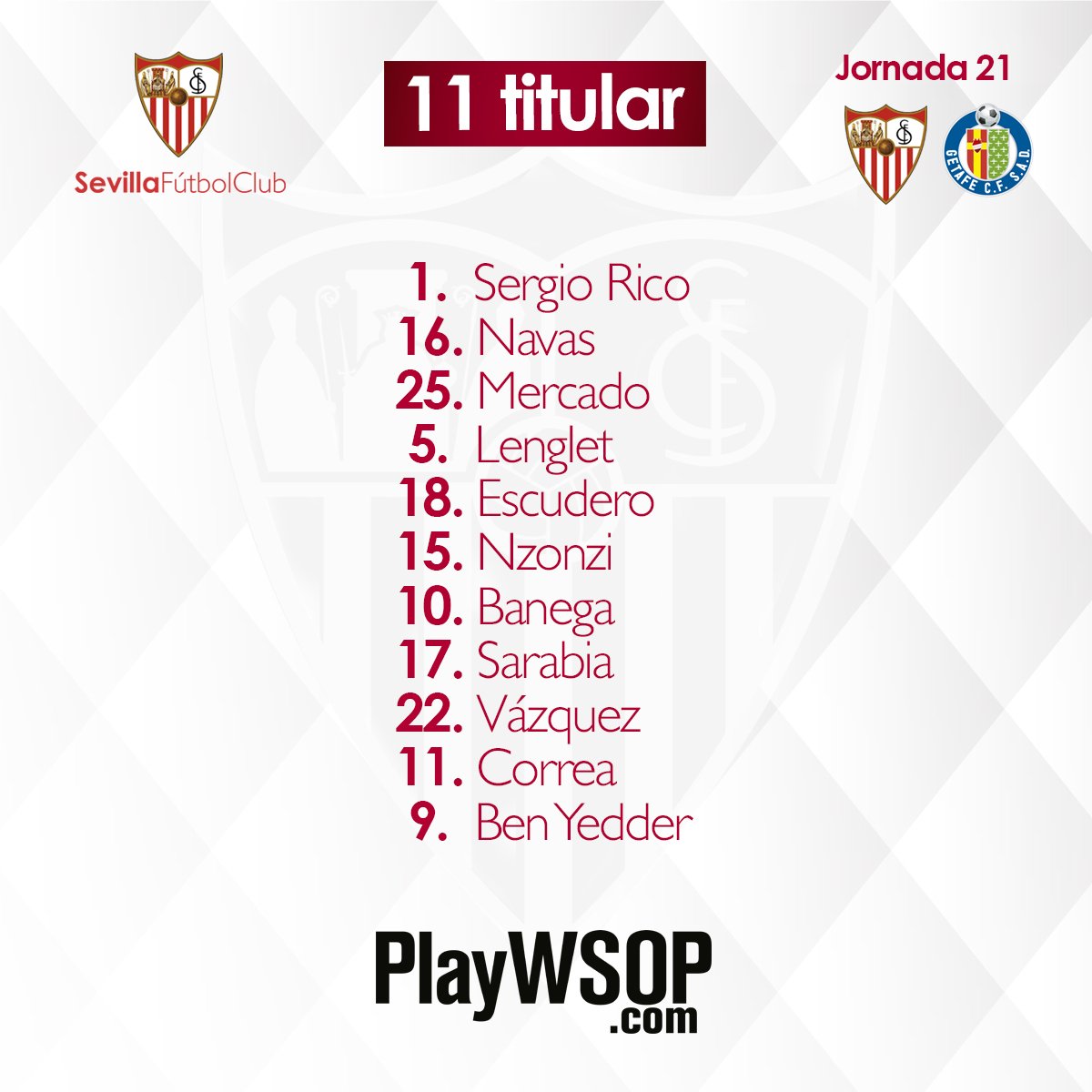 Should we maintain the same level of commitment and energy that we did in the past few games, a win should be within reach . However, we will need to be on alert not to become complacent, and at the same time keep one eye on resting the legs for Wednesday night's semi final away to Leganes.
I'm going for a score prediction of 2-1
¡VAMOS MI SEVILLA!