beautifully made, some interesting picks you have there Vulpes. I will be making one as well in a moment.
Having to be said, it's from what I most closely experienced and some personal favourites. But in fairness to all legends from the past, that I don't know well enough. I think our current Defense is really up there, eventho we make some usual mistakes Koundé his talent is really incredible, and has been from the start. Maybe Diego Carlos has been the penalty provoker. But he's just still a big part of the central duo and more of a killer. Which is one that I want to have in my team. Maybe Dragutinovic or Escudé for style and elegance, or Javi Navarro as a Capitan, but I've only seen a bit of him at the end of his career.
Rest of them speaks for themselves. Also we are so blessed with Bono as a GK.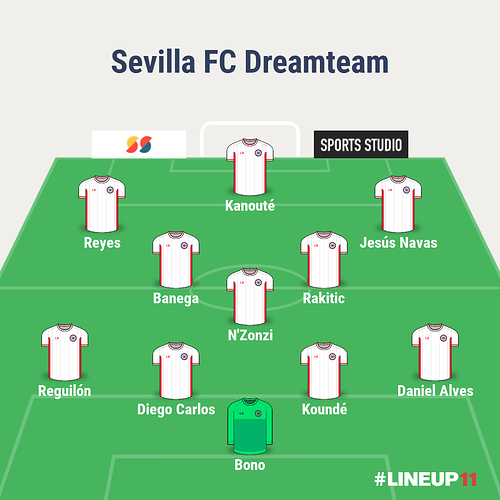 How do you make these images like above? Thanks.
I saw Eddie make one of these and found the app of lineup11. But there are multiple for sure. Is fine and basic tho.
This is mine…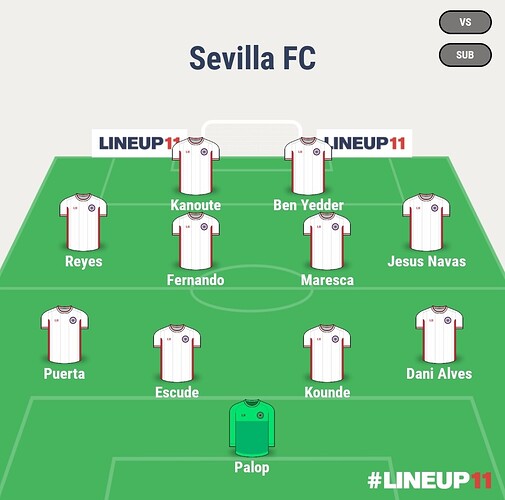 GK: Anyone who knows me well on here knows I am a huge Bono fan, but Palop is my all time favourite keeper. Such a good shot stopper, and so brave in one on one's.
Defence: Attacking intent at Full Backs but not lacking defensively. Kounde is superb and will only get better, Escude was also a very solid CB from a time when we were on top of our game.
Midfield: Wingers speak for themselves, absolute club legends both. Fernando I think is one of the best most consistent CMs we have ever had, and controversial I know given we have had Banega, Rakitic etc, but Enzo Maresca is one of my all time favourite SFC players so he was always getting in.
Strikers: Typical big man, little man combo… WBY one of the best goal scorers we have ever had, and Kanoute who was one of the best big men we have had too.
Actually true, Ben Yedder man… Absolute top striker.
It's tough to pick 11. Sarabia would easily get in a team, but I love Enzo too much.
Then you have Gameiro, Luis Fabiano who easily could be strikers.
Javi Navarro, Dragutinovic, Carrico as CBs… Krychowiak in Midfield.
Too many excellent players. Left Back maybe if I wasn't biased toward Antonio I could have gone Adriano, or Fernando Navarro. I'd even say given his service to the club that Escudero could have been an option.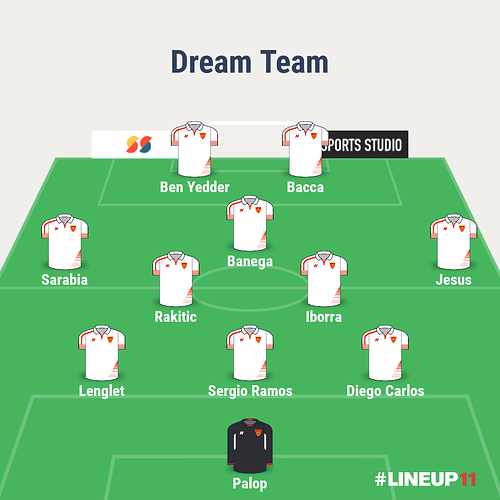 I'm going Sampaoli style, mainly because otherwise I can't fit them.
Def
Lenglet: Impressed me from his first to hist last day at the club. Very calm and technical defender.
Sergio Ramos: Despite the hate and the short stay, he always was my favorite defender. Whenever he played Sevilla I would hate him for 3 weeks, and then he's back being my favorite. (And he gave us some own goals)
Diego Carlos: Started very solid, has caused some sloppy pens but I believe he'll be our guy again within no time.
Mid
Sarabia: Fun to watch, was my favorite player in his last season with us and he liked my Insta post (small flex).
Raketic: Mainly based on his first spell with us. Closely followed by Nasri but he was just a loan player.
Iborra: I put him mainly because I feel he was very underrated. Narrowly won out against Krychowiak who was one of my favorites but completely fell off when he left, and N'Zonzi but I dislike N'Zonzi because he went partying after the Copa Del Rey loss. I am still salty yes.
Banega: One of our best ever creators, period.
Jesus Navas: My name says enough.
Att
Carlos Bacca: The bus driver, or how my friends and I called him ; the Bull. Amazing memories from him.
Ben Yedder: I think he has the highest minutes/goal ratio for Sevilla, was such a nice player to have.
Bacca. Another one who misses out who could easily have been in.
I might make my worst Sevilla XI at some point.

Absolutely, there are so many awesome players when you continue thinking about it. Really beautiful, and makes me realize more what a magnificent club we are.
I felt like keep making Dreamteams after that one, underrated one could be fun too, worst ones gonna be some heavy digging. Rusescu comes to mind, we had some dark ages. I'm going for it

I will have to think long and hard before doing the Worst XI. Check over squads the last 15 years first then make it.
Talking about the topic with Shendm, the dropping of our total player value. Was at 430m pound at the start of the league. Its at 374m now. Exactly what we've been saying. We are ruining player development by how we are playing, if results start dropping we are doomed. Obviously only, Marcos Acuna, Montiel, Lamela, Nesyri and Mir rising.
Actually the rises, so far compensate, excuse me. My screenshot was from the Spanish Site, and the current was on UK (EUR-GBP)


Not soo doomed yet

Yay @SurreySevilla You got it.
Nailed it with Kanoute and Ben Yedder.
Nailed it with Maresca.
Absolutely has to be Alves and Puerta
Same goes for Koundé, Fernando and Palop.
Filling in the rest, I'll have to think, if we played 4-3-3 it would have to be a different formation and I'd like to put Saviola in there and would have to drop Ben Yedder, sorry @tay_van_holland.
Very difficult to choose, but I'd go with this one: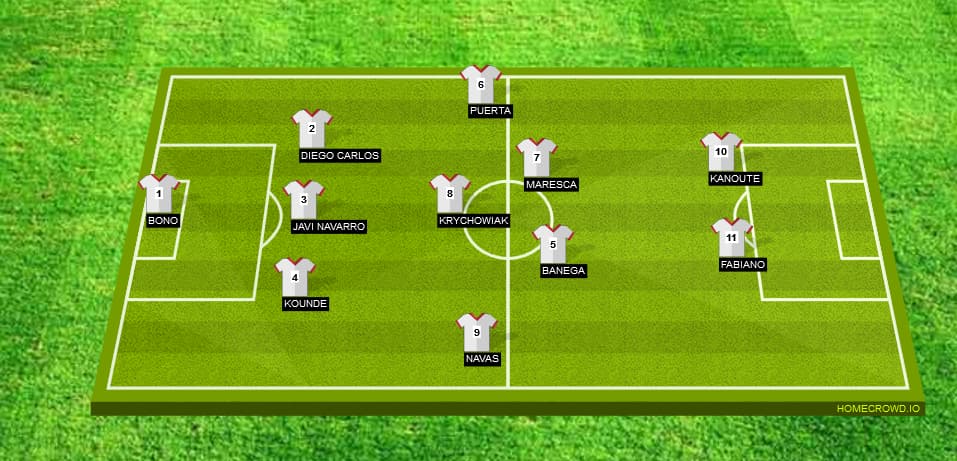 Subs:
Palop
Carrico
Ramos (didn't include him in the starting lineup because he didn't reach his prime with us, same as Maradona and some others)
Dani Alves (in any other formation setting he'd be a starter)
Reguilon (same)
Fernando
Rakitic
Reyes
WBY
Tim I loved Savigol too. He was one of the best finishers ever in football to be honest, I just went with WBY as he was with us a lot longer and played in a much weaker team that Saviola did in my opinion.
I would love to see a simulation, where all these teams compete, that would be fun. I used to do this in parts of FIFA carreer mode, loved it.