That pass from Carlitos today!
Sevilla C won 3-1.
Sevilla Atlético have three games left… Home vs Velez two places (4 points) above them, then Torremolinos Away and Home vs Atlético Real Mancha, both below them. It's effectively in their own hands to at least not fall back into the main Relegation zone.
Mendilibar that good, his arrival even revamped the youth teams apparently.
Not following it extensively, but suddenly good results posted on here lol.
Sevilla Atlético won 2-1 against Velez. Whilst still not out of danger yet, results are going in the right direction with 2 games to go.
Will 1 win out of the 2 remaining matches cut it for staying in the league?
Probably need a Win and a Draw to be honest to be sure.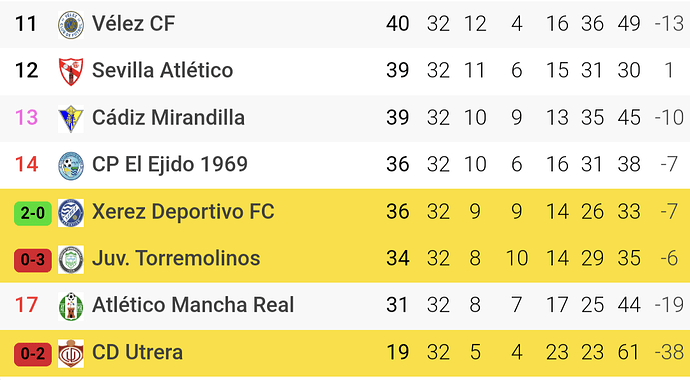 They do play Juventud and Atlético Mancha Real in their last two though.
Not there yet, but what an absolutely incredible turnaround and sprint to the finish.
Vamos Sevilla get these last six points!
Next game will be very tough. Torremolinas will be at home and fighting for their last prayer of staying up… Will be a war. Final match at home against an already relegated Mancha we could feel a bit more confident, but leaving it all for the final match would be VERY nervy.
Everything to play for still.
So do we have a relegation playoff spot guaranteed at a minimum? Or with two losses could we end up 17th, depending on others' results?
Btw, I realize now that the above post is stupid since the table is right above my post. So clearly we can't end 17th is the answer to my dumb question.
Hoping for 6 points and a happy-ish ending to this miserable season for both teams.
How's SevillaFC Femenino?
mmmm… im drawing the opposite conclusion based on this screen grab from a differen site: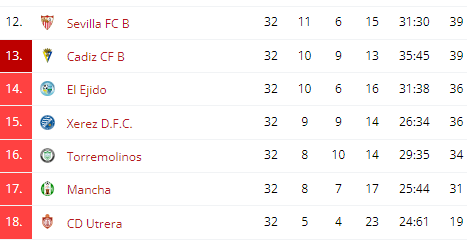 This suggests that 13th would still be playoff and so we definitely could still get directly relegated if two teams jump us.
Yup 13th is a relegation playout against a team in the same spot in one of the other Segunda Divisions. 14th down is automatic relegation. We need to win both games really, it isn't exactly ideal as it is but it is better to have SAT in Segunda and C in Tercera than SAT in Tercera and C effectively in the Spanish Non Leagues.
Our last two games are:
Away Vs Torremolinos
Home Vs At. Real Mancha
Cadiz B's are:
Home Vs Utrera (bottom)
Away Vs Antequera (top but already promoted)
El Ejido's are:
Away Vs :poop: B
Home Vs At. Sanluqueño
Xerez's are:
Away Vs Velez
Home Vs Torremolinos
So effectively it is in our hands but Cadiz play two teams with nothing to play for, as probably are Xerez. All we have to do now is win out. For me it is between us and Cadiz B for 12/13, we just need to hold our nerve as they will almost certainly get 6 points in my opinion.
How the table looks after this weekends games could be huge.
Thanks for the explainer…even my follow-up post revealed my ignorance of how this league actually works. I had assumed the playoff was among 13-14-15-16th places or something like that. But I had forgotten there are a small army of Segunda B's all joined in the playoff to avoid relegation.
Anyhow, ignore my posts above…whether or not we can end 17th is irrelevant…the goal is to end 12th. Vamos.
What's the latest on SAtletico?
Btw, if Málaga can't pull out a win today against Ponferradina, they basically are confirmed to relegation…to third division (Segunda, I think it's called these days? Or Liga RFEF?)
Crazy to imagine a team that some said was the next Man City (investors taking over a weakish team and making it great) take such a turn for the worst. Not to say I ever bought into the investor hype, but certainly never expected it to get this bad for Málaga.
Confirmed… Or at least, almost confirmed, Málaga is getting relegated
SAT won 0-2 so it is in their own hands next week.
Cadiz B beat bottom places Utrera 2-1 which isn't really a surprise.
El Ejido beat :poop: B 1-2.
And Velez 1-1 Xerez.
That relegates Xerez, but I didn't take in to account Velez who have slipped into the Playout spot now… El Ejido can still stay up but need to Win and hope all three of SAT, Cadiz B and Velez lose.
So final games are…
SAT Vs At. Real Mancha
Antequera Vs Cadiz B
Velez Vs Utrera
El Ejido Vs At. Sanluqueño
Basically we Win we are safe… Cadiz B are in trouble, but having already won the League you have to question how much Antequera will be trying next week against them.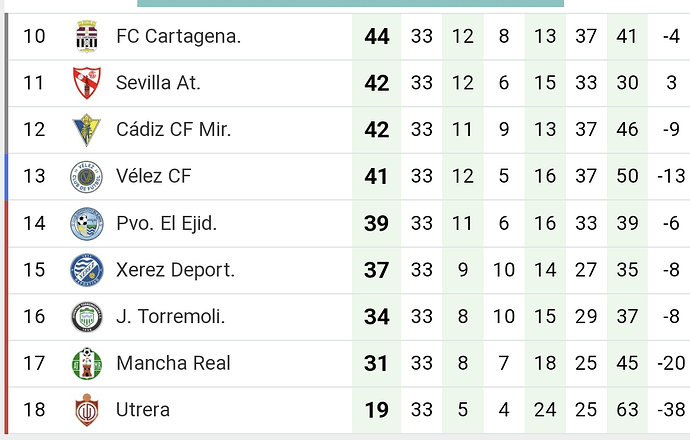 Cartagena B can't be dragged in because even if us, Cadiz and Velez all Win, they have an equal Head to Head Vs Velez but a significantly better GD than them.
Goals were by Ryan Johannson and Carlitos!