I remember this one very clearly, mostly because of the circumstances when I watched it live on TV.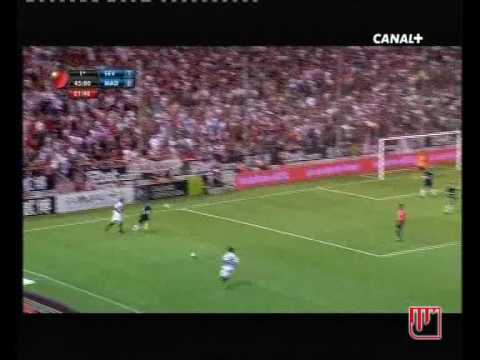 It was an end of high school summer trip in Durres, Albania and I was literally the only one cheering for Sevilla at the top of my lungs the whole time in the place where the match was shown. There were about 7-8 RM fans and most of the others were neutral but then joined on the Sevilla side after the second goal (as always with neutral fans lol).
It was probably one of the best games of Sevilla… full of passion and determination to win. Missed a ton of chances too but Casillas was in god-mode back then so couldn't do much about it.
Perotti just calmly stroked in an easy goal and Casillas had no right to get to that.
That blew Perotti's confidence clean out of the water, start of his downfall.
Both those matches were amazing. The atmosphere was incredible and give me goosebumps watching on tv. That era we had such an exciting team to watch and a full array of attacking options.
We could have beaten them about 4/5 - 1 had we been a bit more clinical. I crave for a team like that against that was exciting and full of passion.
In the 2006/07 game we tore into Barcelona in the last 15 minutes, none of Lope's defending a one goal lead. (Just getting a pre-season dig in).
In 2005/6 we won the first UEFA 4-0 on the 10th of May, on the 13th of May we played Barcelona at home, a game postponed from week 34, and won 3-2. On the 16th of May we played the scheduled week 38 game against Real Madrid and won 4-3.
What an end to a season.
We went on to win the Supercopa 3-0 against Barcelona in August.
https://www.marca.com/futbol/sevilla/2022/07/03/62c1e2a4e2704edc548b45be.html
Any thoughts? The idea that the injuries this season was a normal amount seemed absurd to me. However, it should be an easy question to answer empirically. Anyone think they can run those numbers in moneyball fashion? If anyone has their data shop running those numbers it should be Monchi's, but who knows whether they have taken moneyball from recruiting into medical. If they haven't already, they certainly should.
Hoping this is a good sign that next year we'll have less injuries, but hell if I know the first thing about medical shops in a professional football club.
I think it was Tim that mentioned something about the main medical staff leaving 2 seasons ago, not sure. It's a good sign now as the medical team was definitely one of the factors for those injuries and long recuperation times.
This was the medical staff that left. They all took off for PSG but came back a year and a half later, so, all the theories about the staff kinda got really confusing haha
Who's ready for more graphs!!! We're adding a new line next Friday!!!

Can't wait for more lope ball graphs. Hopefully it grows exponentially in the positive direction

Injury Graph: Amount of first team players that are excluded from the selection due to injury every matchday.
Maybe a stupid idea, also don't know how easy these numbers are to find, but I am a bit curious to see if the correlation between gain of points and peaks of players injured. Especially after the season we had last year.
Yep on Transfermrkt I think or maybe footballref