Nice. The best and most sensible decision all round, now let's build a team to push for the top 6 again.
So, seems like the Twitter sphere is finally catching up with our recent observation that Mendi doesn't understand how language works or somehow thinks that of you can't understand his remarks in old man castellano, you can't be trusted in the starting XI,

Some tweets:
https://twitter.com/butacondelgarci/status/1703502014561300847?t=7uZZAG49Jg28LR4mHVkdew&s=19
https://twitter.com/elpaquito_2/status/1703511089571312116?t=L0YM1ry07oKRVQrnPDyB-w&s=19
https://twitter.com/Fedesmarque/status/1703514133327495270?t=MPTsRWMkz3i9N1gine8fyQ&s=19
https://twitter.com/Fedesmarque/status/1703530817048191027?t=HM7VozvQZv1MzOgXffMAgg&s=19
https://twitter.com/JLeon85/status/1703534703729369335?t=KEmwpyl6yj5vFpCkyDH2KQ&s=19
Apparently Mendi said something to the press after the match to the effect of "some of the players aren't starting yet because they still don't understand me".
Not sure if it was more specific than that or if he specifically mentioned not understanding Spanish, will have to dig up the press interviews he did.
He seemed to have said exactly that, that some don't understand his ideas yet because of the language.
Painful to have that type of manager.
I would expect that kinda thing in Italy where gameplans are said to be very tactical. I guess that's just how old-school Mendi is.

With how global the game has gotten, it's a bit disappointing to hear. But all in all, Dodi & Bouba will pick up Spanish fairly quickly.
Though my first thought when hearing this was: "oh, brilliant, Mendi! Now they'll spend all the mental power on learning Spanish rather than learning the actual system!"
Anyways, I'm sure they'll learn both. Not to mention, I think a few matches of seeing the subs play better than Suso and Oliver and (God help us) Joan Jordan, and Mendi will start getting the message that these guys may not speak or understand Spanish perfectly, but they can definitely play.
One final comment on this issue. Why the hell doesn't the team have two roving translators on the side of the bench to make sure they hear and can repeat anything Mendi says in old-man-Spanish?
Couple other tweets, one with the comments by Mendi and another comical one:
https://twitter.com/SFCSVQ2/status/1703493578809397392?t=__SLd7Fi7wEKwkEfxrrSMA&s=19
https://twitter.com/SFCSVQ2/status/1703493578809397392?t=n8_Qh9DIWMollU6ycq01Kg&s=19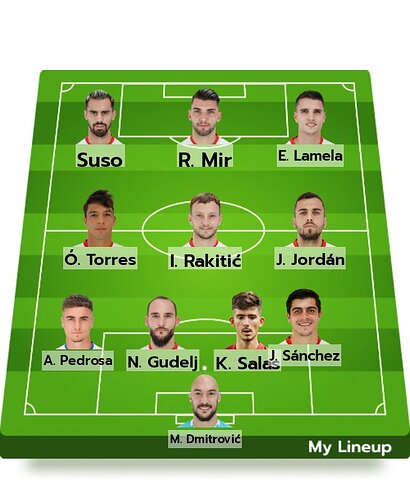 He also says Sergio played because Soumaré doesn't understand him. Doesn't even make sense, playing a Centre back instead of a defensive mid. Why would you even consider Soumaré and Sergio at the same position. Or is language the base of his whole system, so if we had 6 Spanish midfielders, he would play 3-6-1? Shameful press conference overall.
I mean some of those balls from Ramos makes me think he could play cdm!
Yes of course he can, but it's besides the point. Its completely crooked. You don't get Ramos to play him there, nor do you get Soumaré to play him centre back. So why compare them like that and say, well language is the problem. So that's why I choose Ramos and put him centre back

Ok mendi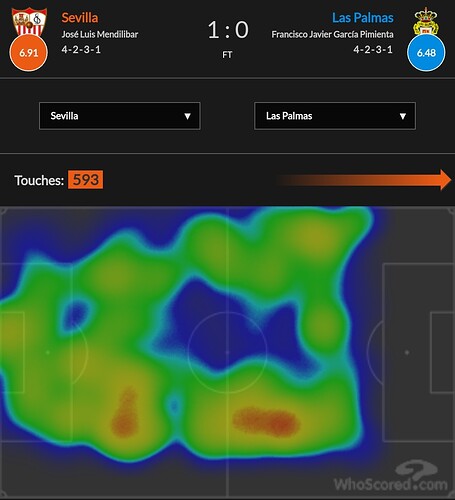 I've been complaining on this forum for quite some time now about our midfield being absent, or being 'a hole'. So this particular heatmap is funny to me: we play donut formation or something, haha. But this is our only win this entire season, so it… works…?
Mendilibar has now coached 24 games for Sevilla and has only been able to win in nine of them, which, according to @LaLigaenDirecto, makes him the coach with the worst winning percentage for Sevilla in the last decade. Specifically, Mendilibar only has 37.5% of victories, surpassing the worst until now, Montella (39.3%) and is the second worst of the 21st century only behind Marcelino García Toral (33.3%),
who was dismissed after 27 games.
We can bless the lord, that those wins were in the Europa League or at least two of them were Vs United and Juve and the draws did the rest.
That Europa League win still is a miracle, but part of this club. Not of mendilibar.
I just don't want them to keep throwing away money by sacking coaches. The board lacks vision and good decision making and have their mind focused on other things.
They all have to sit on their blisters now, and accept whatever mediocrity comes out of this season and pray to God that we survive the CL group and pass another round for some more income…
Mendilibar never was a good long term choice while you are in a rebuilding phase. But they decided to throw this year away. And just stall for some reason.
It's sad that they don't realize that, if they fire him, the same mess will repeat. Emergency manager etc. New system etc. Endless misery of mismanagement.
Sit it out, and make an actual plan this year contacting a promising manager from the start of next season and actually look for a better future.
Mendi did the job required last year. We should have moved on from him in the Summer with a big thank you for all you've done but we want a younger, more flexible coach.
I always thought Mendi was a stop-gap coach after relieving Sampaoli, and has only been able to stick around because of our miraculous Europa championship and the sporting director change. Personally, I think it's time to welcome a change. I have my eyes on Gaizka Garitano. He seems to have a lot of love for the Basque country and might not want to head south, but he had such a great run with Bilbao/Eibar.
Yeah, I do think the fans and the board too heavily weighted the Europa League performance when considering renovation, myself included. When you think back about the actual La Liga resurrection, it was good enough to avoid relegation, but only by a pinch, and still a lot of disappointing matches.
Anybody ready for Lopeball 2.0?
I think Mendi now is under pressure after a poor start to the season.
I include myself in believing that Mendi had earnt an extended chance after the Europa League success and steering us to safety in the league.
That said, he had originally been appointed on an interim basis and maybe was ever meant as a stop gap appointment. Maybe we need a younger manager with fresh ideas to come in and rebuild for next season. This year we probably accept more mediocrity in the meantime.
We will see I guess.