It seems the board aren't even confident in their own decisions now. Time for change.
Continuing the discussion from Mendilibar out - Diego Alonso in:
Watching Diego Alonso interview from last night:
Noticed he said that he was "in Spain after the World Cup, studying with RFEF and spending time working on languages, which is something that all modern coaches need to work on" (paraphrased from memory, sorry if it's not exact).
Interesting/ironic that he mentioned this given all the bad press Mendi got for judging players harshly who didn't speak Spanish. Will be curious to see if the official videos in coming days capture him greeting players in French or English (or German, I suppose, though that seems less likely).
Lots of discussion in the interview about tactics, ideas, visions, etc. All Greek to me. I would be a terrible football coach because I sincerely think all coaches are just making this crap up and 90% of coaching is just emotional intelligence and ability to communicate effectively with players so that they can communicate effectively with each other. Anyhow, no idea what the hell Alonso was talking about in this interview, but maybe some of the tactical/strategy gurus among us can make heads or tails of it (drafted this before Enrico's post)
How about in the press conference and presentation of Diego Alonso. After already having declared the rumoured matter about "it will go very well or very bad" was about the Sevilla Atlético manager.
An interviewer asks the dead ass question to Pepe Castro. Do you think the future for the club under Diego Alonso will go either very well or very bad?

I'm all for colloquial language and motivational speech, and maybe it works for a national team like Uruguay but from the early videos I'm not sure if players like Rakitic or Sergio Ramos like to be directly called a son of a bitch. And pushed every meter… Hope it goes well but especially the veterans I can see being annoyed by a seemingly nobody coach for them. But let's see.
Welcome Diego.
Managing Uruguay in a World Cup is some pedigree.
Hope it works out!
Thank you! As much as I can't stand Uruguay given the bad blood with Ecuador since way, way back, it's crazy how presumptuous the response to his arrival has been, as if he was coaching for Albacete or Alcorcón or something. I honestly think Spanish fans may have been more welcoming to a coach of a moderately successful second division team over Alonso.
Also, been meaning to say, I looked at the win percentages you sent @ChrisLail, and while some of them look weak, most of those were teams in quite peculiar situations where you weren't expecting more than about 1 point per game anyways. His points per game at Pachuca and Monterrey actually look pretty respectable and those were the only places he really coached a respectable team before Uruguay, whom he saved from the brink after Tavares hit the rocks. Inter Miami was naturally going to be a cluster in their first season.
Wow… a lot has happened these past 7-8 days!
@RyanMoore @ChrisLail - I was in DC last week for 2 days, totally packed with meetings before flying to Rochester and then back to Dulles and back home (through Vienna) - I owe you guys one for not being able to grab a coffee or lunch. Hopefully next time around, or in Seville altogether!
As for Diego Alonso… not sure what to expect from him at this point. He has done well with Pachuca and Monterrey, but not known for much other than that.
Preferred formation: 4-4-2 or 4-4-1-1, attacking minded.
Let's see… VAMOS!
Oh bummer man! Would have loved to have seen ya!
What a shame! Could have snuck over to Dulles to buy you a coffee while you were checking your bag!
I owe you all for the next time.
@Rene1 is in DC too… damn!
hope you had a good enough time you're willing to come back!
Pressure from all sides rising. Big game coming up and an international break coming up. You know how the board sees those opportunities?
I feel bad for Diego in a way, mostly because the mess of a board and management that he came into the club. Thinking they are nice and well and then finding out all the small fires that are left burning ready to let the wildfires loose.
The way Castro presents himself and the Media is smelling blood too. We are a mess on many fronts.
The Madrid game was great but afterwards mistakes cost some games and now the whole wagon seems to be going off track.
Can the Betís game change it all or is it an extra spark to burn the house down.
Here's my take. Alonso has had 5 matches so far. 3 of them were nearly certain losses. He lost 2 of 3.
And the other two were winnable games and he tied/drew both.
Yes, it's a real shame to be 5 matches in without a loss, but of you ask me, he's lost two loseable matches. Tied/drew a loseable match to Madrid, and tied two winnable matches.
In my book, he's proven he's not some wunderkind, but the performance is about par for the course. Certainly better get a win or a draw v. Los verderones, but I just don't see how we can think of this as some kind of disastrous start. 60% of our matches so far have against teams worth 5-10 times our team's payroll/value.
Underperformed against two mortals, but still not a single loss other than Arsenal losses. Let's take a deep breath. The ship will stabilize by mid December if the fans and the board will just take a deep breath and let the guy coach.
I think it's just because of how we have played the last three…and then to lineup against Arsenal with that pathetically slow, unskilled, uncreative mess. The fans can forgive if they think there has been effort.
Here's the first (of many?) updates for our performance under Diego Alonso. We're one point better than we were last year but still well below our performance under Lopetegui. We've technically got a game in hand, but that's our MD 4 matchup against Atletico, and that's definitely not a walk in the park.
Diego Alonso definitely joined us during a difficult run in the schedule, but now that things are settling down, we need to see some improvement, or he probably won't be around too much longer. This front office hasn't shown a lot of patience over the last two seasons.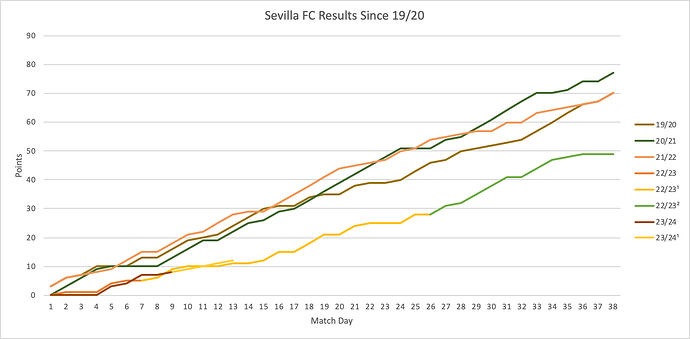 Aren't we at 12 match days, not 13? Which makes for a slightly different story, not likely to get points out of the colchoneros…but always possible
We're 13 match days. The MD 4 game is factored into here. If we win or draw that game, these numbers will adjust accordingly.
Rumors of the club looking at alternatives are swirling once again.
Do you think the club has performed better or worse under Alonso, not looking at W/L? Just play.