@ShendM wouldn't want to call a line-up but I suspect it will be very Argentinian dominated. Expect Montiel, Acuna, Papu and Lamela all to feature heavily.
Would be great to get Ocampos back as well as I reckon he'd get the best out of him.
I agree. Can definitely see him making use of the Argentinian connections and it will be nice to see him go with 2 forwards and just more attack minded in general. I'd like him to play 2 out of the 3 of YEN, dolberg or Mir. If not at least an AM very close to one of the strikers.
Have lamela, Isco, Oliver, Rakitic in midfield and acuna on the wing. I hope we get tecatito back soon from injury as he could fit Jorge's formation. Having him on 1 wing back side and acuna the other. Maybe we can get ocampos back at somepoint but we will see.
He could go with 3-5-2 again as he has had joy with that in past with us or other clubs. He's not afraid to change the formation but it's usually attack minded, whether it 3-5-2, 4-4-2, 4-1-3-2, etc.
I'm actually excited about our attacking quality as I believe we do have a lot to offer and Sampaoli is the man to make that work. Albeit I still think we need better players in forward position or midfield but he still has a bit he can work with and improve for now.
The defence is the worry but we still desperate to field a fit Marcao and we missing rekik which is a blow. Maybe the 3 at the back isn't a bad option as right now our best bet is to try out score the opposition as we can't rely on defence. I hope Bono can get back to last seasons form too. Otherwise maybe dimtrovic gets another chance.
I'm just excited for a change and it will lift the mood of the crowd and will things can only get better right now. We rock bottom so let's hope for slight improvement and build on it. Let's hope for more goals and chances created again!
Anyway Vamos Sevilla!
Vamos indeed!
I'll take Sevilla 6 - 4 Espanyol every week.
Excited!
Is Ocampos able to be recalled in the winter, for Argentinian purposes?
@ShendM I've had a think and my strongest team (if everyone is available) would be:
Bono
Rekik Marcao Nianzou
Acuna Oliver Jordan Montiel
Isco
YEN Lamela
Sorry I don't know how to do the graphics!
I like this lineup. No Rafa Mir…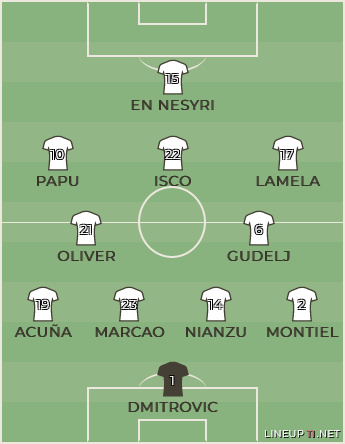 From what I remember from the last time he was here Sampa never played the same line up twice, the team changed every game as though he couldn't decide on his best 11.
Taken from Orgullo de Nervion.
" Sevilla FC has made official this Thursday the hiring of Jorge Sampaoli as coach of the first team. The Argentine arrived in Seville this afternoon and will lead the team next Saturday at San Mamés in the LaLiga Santander matchday 8 match against Athletic Club"
If he is leading the team at San Mamés this club is in a far worse state than we thought. We at the RSP will be left with no game to watch LOL.
Lineup11 app or just google lineup creator there are many sites where you can do the graph.
Dmitrovic is too deep in the defense, needs to be more advanced.