Hopefully the last match with this coach in charge.
Yeah they had another week, to progress and prepare things behind the scenes. But it feels subdued lately or that might be me alone. Other sources saying, this result doesn't even matter and we separate very soon. It's as somebody earlier said before, the team is the team and lope is not even getting the lope amount of potential out of it anymore. So even if a new coach gets 30% or even 20% or 10% more out of it, it's massive already. I just want them not to grab the first best option and dedicate to a certain direction, instead they might go for hope and just short term improvement (shock effect) bet.
I'm just done with half decisions, half work and half measures in general.
But if it's internally decided Gallardo is the man, we need to suck it up two more months. Which i'm fine with. That would at least be a sign of an actual plan.
Unless we pull off a lucky win! It's looking like it though.
I think this is the best time to change the coach. It was painful, but still better that they waited until the NT break. If we don't make the switch now, it will be already too late because by December/January Lope will sink this team further.
You're right though - it has been a poor planning of the season in every aspect of football.
Monchi is making mistake after mistake, first with the transfer window - then with supporting Lope when clearly things won't improve, prolonging stuff. Then we have Castro who is not brave enough to say: enough of this crap and react for a positive change… then you have Del Nido who is trying to take advantage from the situation for his own benefit , etc. etc.
So many things are going wrong. However, if you want to start with a change, the most logical one is to start with the coach. It's a pity that we can't get Gallardo until December or what was the case? But we can do with other coaches too… except the likes of De Zerbi, Gracia etc.
We could appoint a caretaker manager until Gallardo arrives, I think that's what Lopetegui is right now, just hanging around for his final pay. But really we're tossing the season into the bin.
Yes ofcourse, but who is gonna be a caretaker manager for 2 months? an ex player maybe or Pablo Sanz (infested with LopeLogic)?
That's true. Which is why he's staying he longer than many want. We simply don't have an adequate replacement lined up or any one of real credential who wants to come.
To be honest I wouldn't blame managers not wanting to come to us currently. We have a very aging team, many players out of form, club losing its soul, not many young players and poor football and set up currently. I do hope we can attract a promising manager to come.
Villarreal are 9 goals for 1 against while Sevilla are in negative territory. Villarreal are playing great footbal, Sevilla are not.
It will be like a visit to the dentist and Sevilla wll have to counter constant Villarreal probing. But an interesting clash of styles.
It all points to a Villarreal win you would think. We bottom of the barrel and they flying high with great setup.
You just know now despite this we going to win 0-1 and fluke it with boring footy haha! The lope way!
You've seen Villareal counters? They can be so deadly, it won't be funny. Lo Celso, Pino, Moreno and Jackson. Chukwueze, Comandante Morales if need be.
Against Betís there were some stumblings for them but we will need to do a lot better. If we give them as much as Espanyol for example, we will lose 4-0 Today.
What's the odds they batter us all game but just can't find the net? We seem to have endless luck against them of late. Apart from the 4-0 thrashing we got that end of season 2 under lope.
Also Gerard Deulofeu, pulling ahead in the Serie A above all giants, with humble Udinese. Contributing 5 assists already. Today beating Jim's Inter 3-1.
His effectivity has going up big time, in his latest season.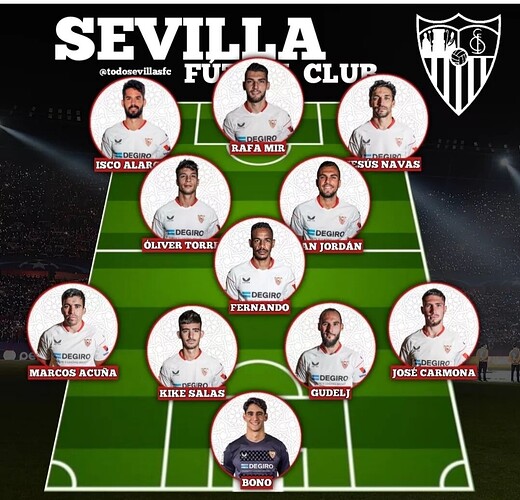 Jesus Navas as a winger, someone mention this possibility last week. Defence stays the same, I don't know why Niazou isn't playing anymore.
Tends to happen when Lope is on his period…
Also welcome back Oliver

and even Rafa Mir lol

Well that starting XI tells me that Julen is rebelling against the players he was given in the summer, except for Isco who he wanted, the others are on the bench! I really hope we win and this becomes his last game for Sevilla, I have the contempt he has shown towards the club now, you can tell he just wants out but won't jump, he wants to be pushed…
At least Rafa Mir is starting…
At least this guy will be happy: https://twitter.com/RafaMirADormir
and… Enrico

And he's assisted by a player with primary eye for a striker. Jesus Navas was half the reason why Negredo got topscorer that year. Different times, but still.
Are we growing a sense of hope already? or are we gonna bend over?