WHEN?
Thursday, September 26th, 2019
1300 EST / 1900 CET / 0300 AEST
It's back to the drawing board, as the saying goes. Or should it be a tactics' board? After 5 games played in La Liga, only 5 goals have been scored. With our attacking department lacking, we make the trip to Ipurúa, which finds Eibar tied for bottom.
Who knew in order to improve our away record, we just had to abandon our record at home? All 3 of our wins have come on the road, while we are still winless at the RSP. But it shows at the very least that Lopetegui has improved something. While the defeat on Sunday won't do much to convince Julen's doubters, it'll show what kind of performance his team will respond with after a setback.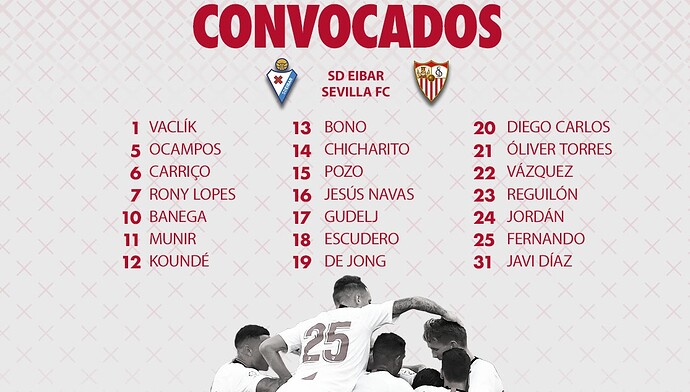 The squad list for the Eibar trip comprises of 21 players, with the now habitual exclusion of Dabbur. As it will get trimmed down to 18, we can at least be assured that one of Rony, Munir or Pozo will at least make the bench this time. Sergi Gómez, Nolito & Bryan have also missed the trip.
HAMBRE
Our aforementioned attack will be under scrutiny as we visit a struggling Eibar side. Mendilibar usually constructs a solid team that isn't afraid to have a go at the bigger sides. Perhaps having prized away their precious jewel has left them with a tougher rebuild? Joan Jordán is one player we can always associate hunger with, as twice already he has won us all 3 points while away to Granada & Alavés. Will we need another one of his free kicks to come away with victory?
¡A por ellos!
#WeAreSevilla