Starting lineup: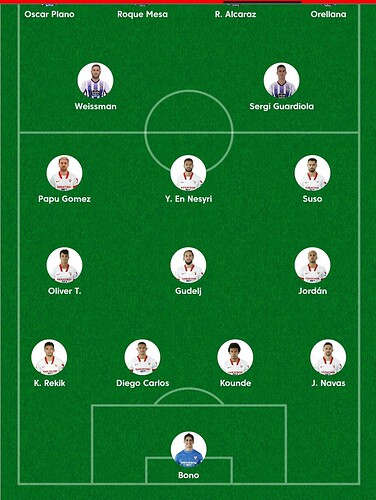 Substitutes:


Strange that Acuña and Escudero in the Squad, but Rekik starting at Left Back?
This morning I was feeling quite horrible due to allergies, but as the day went by, it got better and it made me so glad that I have an incredibly positive vibe now. With that in mind, i´m gonna say we smash them 5-0 today.
Nesyri, Papu, Oliver and even Rekik is gonna score today. VAMOOSSSS!
You've definitely taken something that makes you drowsy.

You are not incorrect haha
This. Like, they couldn't play one half each? That left side gonna look like those airplanes @ShendM be posting. I feel like we'll start similarly to last week. But with Papu's experience, perhaps we can be more daring.
We are strong enough but I'd prefer that Fernado was playing, is he suspended or injured?
Suffering from discomfort according to what I read. No details given.
I just hope we're not bored to death by Bono out to Kounde, over to carlos, back to Kounde and back to Bono.
Betting odds 1.9 Sevilla 4.3 Valladolid, signifies ref not bribed.
You forgot the 'rinse and repeat'
Lope is giving Rekik a lot of responsibility with defending and getting forward, he must believe there's something there to be exploited.
And that miss with the goal open there is why I think if we got a decent offer for YEN we would probably sell.
WBY would have buried that…
Also a classic Roberto, we need to be sharper there.
I think it was a choice given that Gudelj was starting and he looks like he is sitting quite deep and slotting in to make 3 CB when on defensive which is allowing Rekik to push ahead of Papu
I think a bit of the Rekik decision was explained earlier. I think he doesn't trust Papu's ability to track back either.
This game is so boring…I am here falling asleep watching them pass the ball to the back line.
We've been totally superior but now we're a bit out of steam. Not a normal game by any measure, Sevilla very open and not playing the normal defense first system. Such an open game suits Ocampos but he's on the bench.