Could do with Granada taking something from Sociedad, if for no other reason than to calm @Mark_L down a bit.

Granada 1-0 up.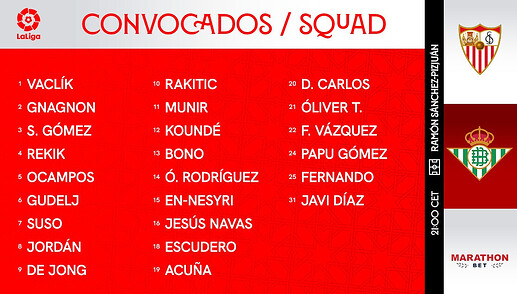 Do or die, part 3.
Everyone called up, except for the injured Vidal. Diego Carlos missed training a few days ago, but we'll see what the starting lineup looks like in a hour or so.
Instead of calling it a 'Derby' why don't they call it Betis' most important game of the season?
Would be up at 4 tomorrow wouldn't I.

Got my Grey and Green shirt ready in case it goes south.

Let's do this! Vamos sevilla!
You're gonna cost us the match like you did last time

Kick him out kick him out kick him out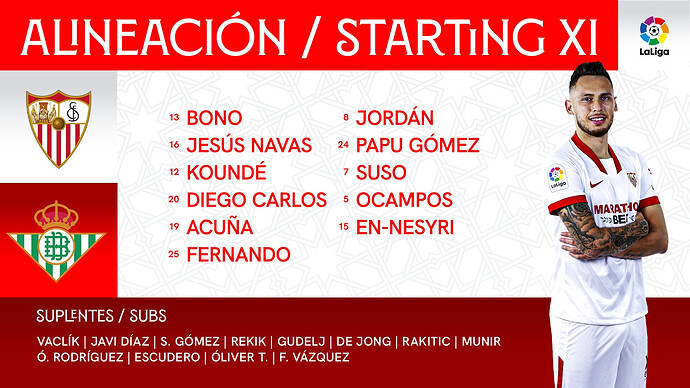 Perhaps our best XI on paper. But wouldn't mean jack if they don't show it on the pitch. I need to see some urgency from the first whistle!
VAMOS MI SEVILLA!
4-2-3-1?
If Lope is actually paying attention for once.
I'm excited to see this one, I'm surprised Lopetegui is changing the system
And in the green corner:
Joel Robles
Emerson
Mandi
Víctor Ruiz
Miranda
Guido Rodríguez
Guardado
Canales
Ruibal
Fekir
Borja Iglesias
Good 11 but perhaps better with O'Scar for Papu
Oscar deserves to start after his good performance at Dortmund, but at the same time Gomez needs time to fit into the system
Ready for it, let´s go boys! Excited for Papu´s role. Hope he can pull the play towards him and we show them who owns Seville.
Happy with that selection and formation. More energy in the midfield a lot more creative and attacking players on the pitch. Hopefully we show that on the pitch and get at them from start. Vamos!
Yeah that's the only one I would have liked to see too. Oscar played great in Dortmund so I hope he starts more la liga matches soon. Hopefully we see him for a lot of the 2nd half here and same for Oliver too.
Nobody has mentioned the referee

LAHOZ

I don't want any disappointments today, not in the mood for that.
Very sloppy play from the back.