I'd go with the same tactics and approach as vs. Levante. Mallorca are better than them, but what's the chance that we'll make the same silly mistakes that we did in the last match?
Bono for Dmitrovic. Acuna for Ludwig, but Ludwig to stay if Acuna is not 100% ready. Lamela for Suso and that's it. Munir is good there, he played his heart out last time and Ocampos doesn't convince me at all this season. However, even if we go with the same formation I wouldn't mind, except Bono in for Dmitrovic.
3 points are a must to keep up with the top 3.
VAMOS!
Mallorca has only scored 9 goals all year while giving up 15. Kubo is out injured. Lee should be suspended.
We should win this!
Not sure Mallorca are better than Levante either tbh.
Yes definitely,
Mir
Munir, Oliver, Lamela
Fernando, Delaney
Acuna, DC, Kounde, J.Navas
Bono
if Montiel, can play i'm wanting him to get some more minutes as well.
Suso, Navas will probably be what's happening but we should have it either way!
Big chance for us to try take top spot for ourselves in terms of points. I hope we go similar to levante as well and get the balance right between attack and defence. We need to attack from start so don't need to revert to 3 Dms here against newly promoted Mallorca. Let's be a bit braver but at same time keep our defensive strengths, discipline and concentration.
I'd like to see lamela start but I'm good if he goes similar in personal to levante game in midfield. I think Bono will back between the sticks and maybe acuna at left back too. Although I think ludwig has looked good on his first couple of games first us so would be cool to see more of him if acuna not 100% like shend said.
Let's hope for another good performance and win to put us clear top and maybe stay there after the midweek games. The more we keep the momentum up the more pressure we put on the likes of Barca, atleti, etc who are chasing us currently and also the media and many other clubs in Spain and Europe will start taking us more seriously . Vamos Sevilla!!
Navas is in a very good form at the moment which makes it harder for Montiel to start, but he definitely should get some playing time as Navas needs resting too.
Montiel is good tho, We have this deep squad for Lope's wishes. So just as he got over his fear for starting Augustinsson. It would be great if we can get in the routine, of switching in and out a plug or two, without messing up the flow in the team. This is kinda what surprised me from last week. It didn't seem to matter, to mix up some core positions even, where the backs aren't even those changing in terms of role specific actions. Where in the centre a different player can make a world of difference.
Oliver said he's in the form of his life now, which is a very good thing to hear but up to him to show. He is reaching a really good point in age for a player, so how awesome would it be if we could build more around him. I'm down, but as usual the 1 wonder game is not enough.
I'm still breaking my head over how we fit Oscar in there too. To try and use our potential better.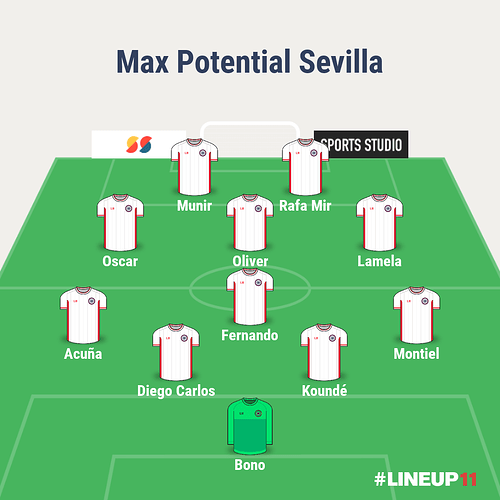 I made this line up, to try and use our young players to max potential. It's a type of 4-1-4-1 if you pull Munir a bit back behind Mir. There is so much threat in this squad from an attacking point, from so many angles to play from Short combinations, Gymnastics, Power, Surprises, Pure Skill, Effectivity, Cleverness, Crosses, Depth, shots from distance, everything. While maintaining our solid back, and not necessarily needing our wingbacks to be the creators, saving energy by not being the only option needed to flow the attack. Which sometimes I feel for Navas for example. The option for them to cross over our wingers still remains, but it's not the main strategy and they can focus on their defensive duty as well. It does require a lot of activity from Oliver, Oscar and Lamela to create availability for Fernando and defenders, but they all do have this Potential. And all our defenders have really solid passing. While in need the long ball to Mir, with those same players, joining immediately has potential for danger
Torres starting at #10 is a fair compromise for Lopetegui's reluctance to fully abandon the 4-3-3, cause Óliver can seemingly fit into both roles. I still prefer Óscar or Papu, but anything to not have Rakitic slot in there.
I wouldn't mind a repeat of the last starting XI either, but a bit more pace to take advantage of counters wouldn't hurt either. Alas, we all know #7 will get the start anyway…
I'll go…
Bono
Montiel
Kounde
DC
Acuna
Fernando
Delaney
Suso
Oliver
Munir
Rafa Mir
To start. Still want to see a lot more of Oscar Rodriguez, but Oliver deserves the start after Sunday.
I'll take that. Almost if not our strongest team right now.
Munir has been revived, kinda outta nowhere, but that is awesome - I hope he ignites a spark in our play. Same goes for Oliver really.
This has the potential to be very interesting.
Indeed, Feeling confident in this one. Munir and Rafa mir have a good feel for scoring. Meanwhile Mallorca missing some players and not looking the most threatening. We should be able to continue and develop our attacking playstyle and work on scoring as much as possible.
I love the fact that Munir is therebut would have liked to see Lamela start.
I think the Mallorca play pitch is quite large and that will benefit Jordan. As @Niller says, good opportunity for Oliver to cement his place.
I'm not convinced Ocampos has his head screwed on at the moment or that he's in form, but the two things sometimes go together.
Happy With the side lopetegui has picked. A good balance and lots of attacking options as well as the defensive strength of the holy trinity and Bono back. Let's hope the players deliver. I like how it not much different to Sunday so hopefully we can keep the momentum going. Hopefully we are also tighter at the back with Bono back in goal as well.
Why is Rayo v Barca on both channels here so far. They want to sort this shit ASAP.
FFS Sevilla Game supposed to be on Freesports and Barca game on La Liga TV. Showing Barca game on both wtf.
Yeah it's a joke. So disrespectful.