Damn - Girona all over Real Madrid 2-0 in the 27'.
2-1 - I hate Vini. He's such a Neymar
Castellanos with four today! Girona should build the statue tomorrow.
Monchi posted on Twitter, and my best summary/paraphrase of part of his Tweet:
'THE NIGHT IS YOUNG. WHY NOT KEEP DREAMING'
Let's dream of cosas chingonas
Who's ready for some math!?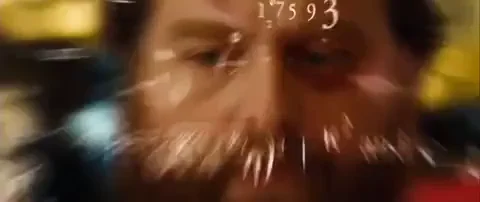 Here's how we sit after MD 33.
We can no longer finish any higher than 5th, so we cannot qualify for Champions League through league play.
Beating Real Valladolid in MD 34 could see us climb as high 7th. (This would put us tied for 7th with Girona and Athletic Club.)
If Real Madrid wins the Copa Del Rey, 7th will get us into the Conference League next year.
All of that is moot if we win our next three games in the Europa League. If we come out playing like we did at the RSP against Man United, we have a very good shot at this. Anything can happen in cup competitions.
Subbing in for Ryan, FiveThirtyEight has us at about 9% chance of finishing top 7… and qualifying for EL Conference. that's a long shot but not zero. And still worth some effort.
By contrast It has us at 20% chance of winning EL and qualifying for CHAMPIONS LEAGUE.
If you go with that, we should absolutely prioritize EL, but don't give up of liga either.
Let's just fucking vamos and win all our games. But especially those in the EL.
I'd you believe their team ratings, we were actually fortunate to draw Juventus despite the bigger name recognition.
They have us at a basically even 47% chance of making the final.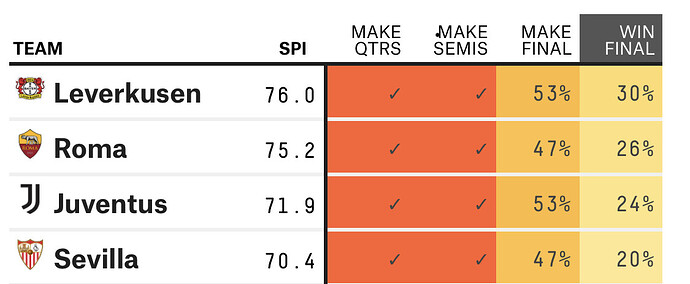 Oh, I agree with that. Juventus is a bigger name, but they're a shell of their former self.
Juventus is 3rd in Serie A. Above Roma (7th) AND Champions League half finalists AC Milan (6th) and Inter Milan (4th). Yeah, they might be less than what we are used to see of them, but still a tough as nails team. I cannot get myself to agree with those stats. But we shall see.
I see they were given their points back too.
Goes without saying that I'd love to see Osasuna embarass Real Madrid…
Although if that happens, any chance of us qualifying for European football through La Liga basically disappears since we'd need to finish 6th and not 7th.
Think Real Madrid will win but I think their road in champions league ends against Man City. City playing better football than real currently.
Osasuna ties it up. Vamos Osasuna. First time that's ever been said on the MM Forum
booo. RM players and fans barely care. it would've meant so much to Osasuna. bummer.
silver lining: 7th would get us into european football.
Or, alternatively, we can win three matches in the Europa league and we'll be in the champions league next season. Also, does anyone know what happens if we finish 7th and win the Europa league? Does whoever finished eighth get into the conference league?
I think Spain ends up without a Conference league spot in that case. 5 clubs in CL and 2 in EL.
I'm kind of scared of Juventus. Hope we can pull it out
It's all about the magic


… Not to mention the track record of almost always going down first and coming back for the win. So the boys gotta remember the nunca se rinde and us fans gotta make sure to keep our blood pressure meds on hand