Excited to see what and how we put ourselves on the field today.
I want us to smash them hard and convincing in Pizjuan, with anything else or a draw I can even see us go out in Zagreb next week. I don't wanna let it boil down to that again, eventhough we are having this stalling mentality since group stage.
GNK Dinamo Zagreb are leading in their National League, beat West Ham one of the favourites in their Europa League group H (who were already qualified but still) Competing with one of the current top teams out of the PL is very respectable and will make them a risky opponent. They have some internationals from the Croatian National team, Livakovic, Ivanusec, Orsic and Petkovic maybe most notably, as well as Arijan Ademi from North-Macedonia, definitely a step up from Elche but we are still huge favourites so up to us to show this attitude.
Also their Manager, stated there are things we don't do well at all. And I want to see if he's able to display that and punish us. A challenging mentality at least.
Start of the knock out road to Sanchez Pizjuan, let's get it!
For the ones in charge, feel free to change, or edit a proper topic starter, I just wanted to get it going already for the hype

Starting Lineup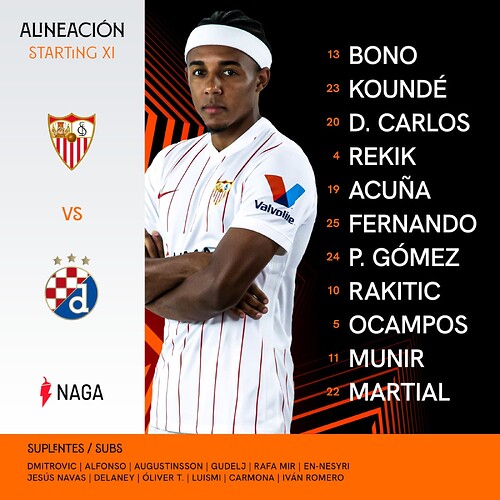 Final Score
Sevilla - 3 Dinamo Zagreb - 1
Goals
Rakitic - 13' (P)
Mislav Orsic (Dinamo) - 41'
Lucas Ocampos - 44'
Anthony Martial - 45 +1'
Match Highlights