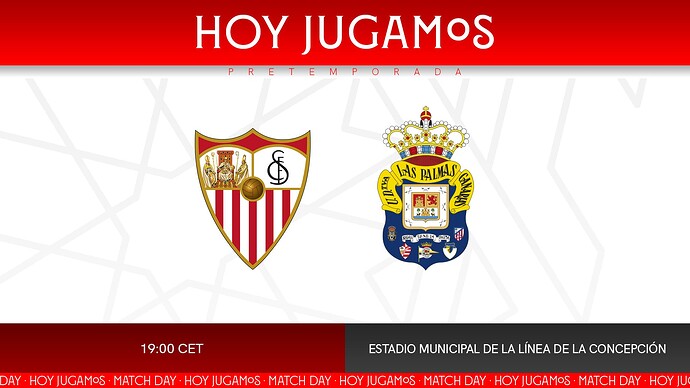 Kickoff: 1PM EST /// 7PM CET
Where to watch*: SFC TV, YouTube
(*check local listings: Sevilla - Las Palmas Live Streaming and TV Listings, Live Scores, News, Videos - July 22, 2021 - Club Friendly :: Live Soccer TV)
#VamosMiSevilla
#NuncaTeRindas
As the season gets closer the excitement builds. Even more so this campaign with the fans back. I hope for another strong performance from the boys! Vamos sevilla!

Squad list: Dmitrovic, Bono, Javi Díaz, Jesús Navas, Pozo, José Ángel, Aspar, Rekik, Juanmi, Sergi Gómez, Pablo Pérez, Pedro Ortiz, Johansson, Joan Jordán, Juanlu, Óliver Torres, Ocampos, Idrissi, Óscar Rodríguez, Carlos Álvarez, Rakitic, Suso, Munir & Iván Romero.
Both Fernando & En-Nesyri are out with small knocks, as De Jong is still recuperating from his injury. Gnagnon, Gudelj & Rony Lopes have been dropped.
Gudelj! Shut up!

Maybe Lope has seen sense and seen something in Pedro Ortiz and Johansson that he doesn't need to rely upon Gudelj anymore.
No Alfonso Pastor.

I wonder if we have a loan lined up for him?
Dmitrovic - GK
Bono - GK
Javi Díaz - GK
Jesús Navas - RB
Pozo - RB / RM
José Ángel - RB
Aspar - CB
Rekik - CB / LB
Juanmi - CB / CM
Sergi Gómez - CB
Pablo Pérez - LB
Pedro Ortiz - DMC
Johansson - DMC
Joan Jordán - CM
Juanlu - RM / RB
Óliver Torres - CM
Ocampos - LW / RW
Idrissi - LW / RW
Óscar Rodríguez - AMC / LW
Carlos Álvarez - AMC
Rakitic - CM
Suso - RW / AMC
Munir - LW / CF
Iván Romero - CF / RW
In bold is who I predict who will start.

OK just seen this…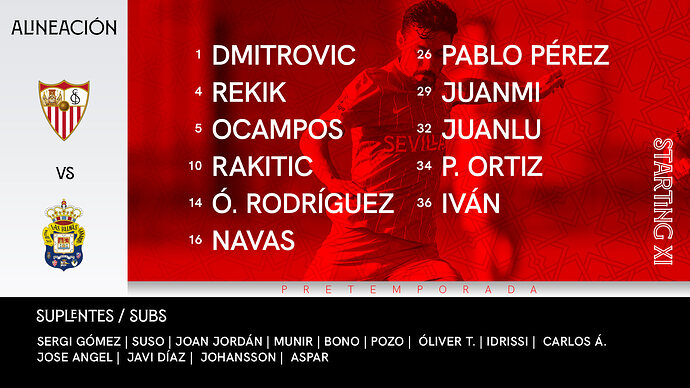 Dmitrovic in goal
Back four of Navas, Juanmi, Rekik and Pablo Perez by looks of it.
Rakitic and Pedro Ortiz sitting, then three of Juanlu, Oscar and Ocampos behind the lone striker of Ivan Romero.
Munir is well out of the picture these days, who has he upset?
Really interesting indeed the lack of Gudelj. Staff members must have discovered us.
Good to see Pablo Perez getting some time in the first team, he basically lost last season due to injury.
Juanmi is an interesting one as he was in Sevilla C last season, yet Lope seems to like him already from these friendlies. I never really thought much of Kibamba and I think it's interesting in that sense that Juanmi Garcia and Lluis Aspar are in these first team games and not him.
Pedro Ortiz is a midfield enforcer but don't expect much else from him, he isn't exactly going to go on marauding runs into the opposition box like Fernando does.
Juanlu is a funny one for me, he is quite clearly rated by the club, but whenever I have seen him both at RB and on the Wing I haven't been that impressed with him, he is super lightweight.
As for Ivan Romero he deserves the start after last season and the last friendly for that matter, although I wouldn't expect to see him in the first team just yet. A good little finisher but I don't think he is quite there yet.
Nice info Jim, coz I've got no idea about the younger ranks. But i'm still curious who and when certain talents are getting closer to the main picture so i'll can keep track of some of them.
Watching the play, this is not a coherent team like the first friendly.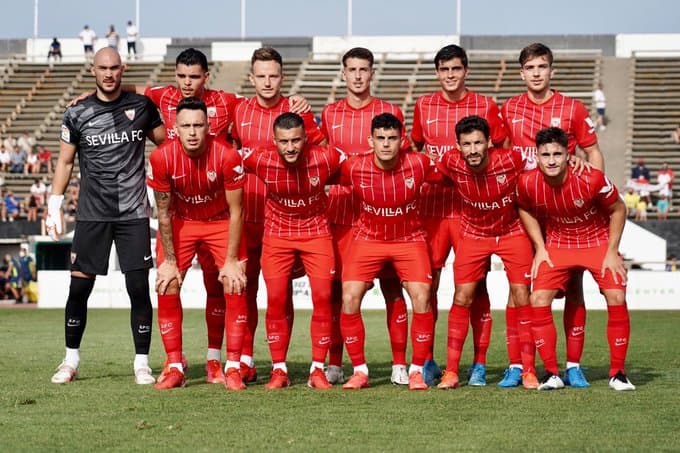 Dmitrovic in the new style Nike GK shirt I see.
I imagine we might see a few of them in the early stages of the Copa.
Can we buy a short sleeve nike GK kit? That looks nice.
This is what I don't like about SFC TV. They've had all day to set up the transmission but they connect a minute or two before the game and then they have technical problems, this is cutting out all the time.
Is the youtube cutting out?
Awesome, mine just crashed nad couldn't find a new one.
No the two we sell on the shop are too really basic plain yellow or plain black ones that are about 4 times more expensive than the exact same shirt without the Sevilla badge on.
Ivan Romero goes down in the box, very well could have been a penalty, but it's a friendly so there's really no need to complain about it
I was looking at the ground like I really recognise this place but why… I've been there like 3 times.



By the way, I like the new goalkeeper kit