Navas should start! Oh wait…
I wish I could say we could beat them with our second team, but I can't

Team will likely be:
Bono
Aleix Vidal
Sergi Gomez
Diego Carlos
Rekik
Gudelj
Fernando
Oliver Torres
Idrissi
De Jong
Munir
I reckon.
Just want a decent performance as 3 points are not available in la CDR.
I see Machin got fired again, not having much luck the poor guy.
Our very own Juan Muñoz with the start for Leganés.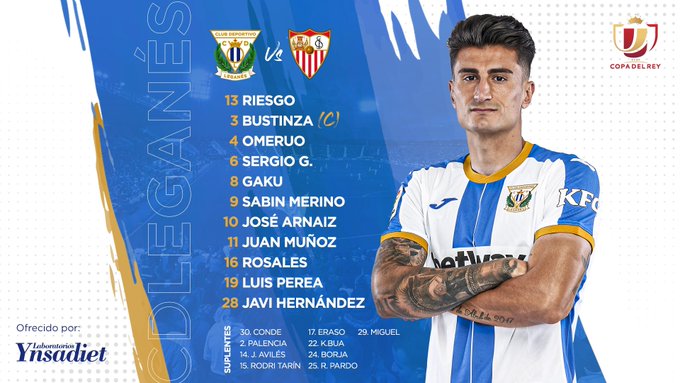 How we feeling about this game boys? I think we're gonna win 2-0
I think we don't recognize the seriousness or lack the ambition and get behind 1-0 and start bumping our heads in a wall and can't force anything more.
Not too confident, but we should be able to win this if we approach it properly from the beginning.
And our very own Pep Marti is the trainer of Leganes
Don't worry guys I think we don't suck that much. As long as we don't underestimate Leganes we should be fine
I'm hoping we are so average because we're taking it easy with the foot on the gas.
Static uncreative possesion, only Torres tries to make anything happen.
Idrissi now fits perfectly into the system, doesn't use his natural talent and listens to Pink Floyd's 'Welcome to the machine'
a little speed up in the passing, resulting in a terrible cross from de Jong. But atleast it was something.
Possession has been really bad. We don't have the ball in the right place and we are moving it too slowly. If the boys don't pick it up we're gonna be on the end of a classic Copa Del Rey upset.
De Jong hasnt played football in 6 months looks like it, or at least I would.
God that was painful to watch.