This will be a a hard match.
Rumours Acuña's back so that's a plus.
Osasuna didn't make it to European football. By getting beat over two games by Belgian Club Brugge.
Getafe beat them last week with our own Carmona contributing with a beauty of a header. They will fight like always and as usual we will be seeing if we have enough threat to score. But who knows maybe things start rolling early this time.
Everyone and their mom is interested in Rafa Mir, as we put him on the kicking block. Osasuna also came by, and Villareal as well. Still uncertain what our plan is with him but probably January will give more clarity.
Osasuna probably one of the toughest away trips and never easy with the inevitable rotation following a CL match. A point would be a decent result if we follow up with a win at home to Almeria in midweek.
Hoping for three points tomorrow though of course!
Giving Ramos some rest? I know he is old but he can't be that tired. Lol
Ramos and Suso have knocks. Mariano injured in the "adductor"
No Mariano,Suso or Acuña either
Mariano suffers a small fibrillar tear in the adductor of his left leg and the recovery period depends on his evolution.
As for Sergio Ramos, a slight overload leaves him out of the squad for the match with Osasuna as a precaution. Some discomfort has also caused Suso's absence from the squad list. The three footballers mentioned join Marcao, Acuña and Nianzou, already announced casualties for the match. The novelty in the Sevilla team's expedition is the presence of Januzaj.
I assume it's Gudelj and Badé in back, but maybe Gattoni gets another look? Doubt it.
Also, forgot to mention it last week, but AGAIN, I've seen Mendi giving Soumaré or Lukébakio copious verbal instructions without anyone around to hear him so they can at least give a recap in French. So wild that he can't understand that if players are not understanding you, there are myriad solutions to this. Hell, pull out your cell phone and use the Google Translate app, it's better than nothing
Starting to lose faith in Mendi, honestly, has said so many phenomenally stupid things in the press in recent weeks. Granted, Mourinho says a lot of stupid crap in the press, so perhaps there's a method to the madness (stupidity?), but more than the language gap issues, I'm just tired of him knocking down his players publicly, individually and for mostly stupid reasons…
My guess -
Dimi
Navas - Bade - Gudelj - Pedrosa
Jordan - Oliver - Sow
Lamela - Mir - Lukebakio
Yeah, I think that's about what I'd guess, even if I'd see this as a great match to give Soumaré a start, but then again, the poor chap don't speaka da español, so he no bueno for Mendi.
Other question in my mind is whether Mendi gives JuanLu another start.
That's unfortunate that Acuña still isn't ready. Really hoped he would be. Again, even more on Adriá Pedrosa. Hope he can maintain it. I would like to see Lukebakio start as well but yeh Mendi might keep them coming from the bench. like that, I'm worried Jordan will be forced in the team again as you are suspecting…
Might be looking forward less and less to this game.
I think Ramos will be missed big time, and was going to say it would be a low goal score line, like 1-1 (2-1 max). But then again, we saw how we opened up against Alaves. So if this one goes to 4-5 at least we got some action.
Mendi give'th and Mendi take'th. Or something like that.
We get Lukebakio from the start, but Jordan enters the pitch.
Kike Salas stand in left back for worn out Pedrosa.
Gudelj back in the centre.
Why is YEN not starting lately? Not sure I'm following…
Why is Jordan starting?
The fuck Mendi?
Very weird lineup to be fair.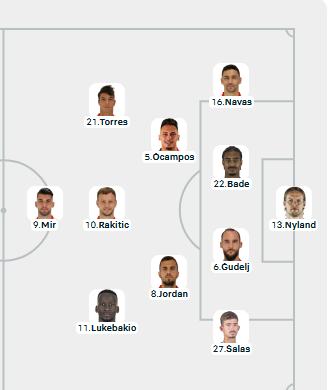 Almost a full B team on this.
Also if you are that worried about Lukebakios defensive workrate. Is putting Salas behind him sensible? Not his position, still inexperienced just by reasoning he won't go forward and stay back more I guess.
Right so we've stuck a Centre Back at Left Back.
And Jordan is playing…
Wtf?!