It will be very difficult catching up with the top spots if we don't win the next couple of matches, this one against Alaves and the one vs. Girona at home.
We'll lose momentum and things could go downhill fast. Orta has still not given us the full squad going into the 3rd official game in the season. A little bit less than 2 weeks left.
Still no Marcao It must be time to cut our losses and terminate this players contract. He arrived injured, recovered enough for Sampi to risk him before he was injured again missing the rest of the season.
The latest news is that he now has a new injury, will be having another lengthy lay off and it will be at least November before he starts training again.
Thanks Monchi what a waste of money.

I'm more inclined to agree with your previous comment that we should be dubious about "amazing" players from Turkiye, moreso than blaming Monchi (ditto, France, TBH). If you look at how Marcão played when he was healthy, he is absolutely worth the 8m €.
To be honest, though, I was equally really annoyed to read the news that his injury is (again!) a long term one. Mainly because him and Badé could end up being as good as Diego Carlos and Koundé.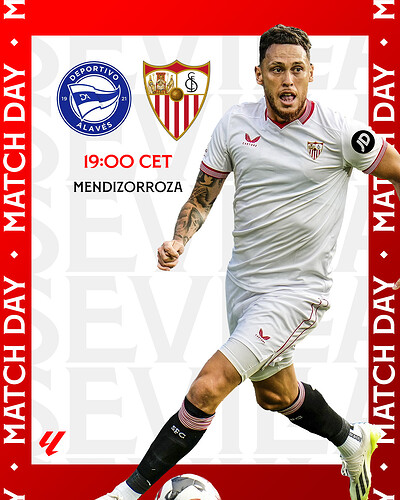 We've gone from playing one of last year's worst teams in La Liga to playing Europe's best, while starting very similar lineups, and still managing to show 2 different sides. Perhaps the Supercup Final was at the forefront of the players' minds, and stronger competition will generally raise one's standards. We did not see such a stark contrast in commitment when Mendilibar took over back in March. Circumstances were different then, as are the challenges of a new season, with a squad still taking shape in the final stretch of the transfer window. So then, which Sevilla will show up in Vitoria?
Loic Bade has still traveled with the team while waiting on a gameday decision on his red card from last week. Realistic signs point to Gattoni making his starting debut, as Marcao suffered another (!) injury setback, with Nianzou still nursing a hamstring injury. The lineup may look similar to the previous week's, as the fringe players, and even the ones rumoured to be transfer listed, haven't seen any game time.
We have seen success away to Alaves before, but have dropped points in 4 of the last 6 league matches, with Mendilibar engineering a 0-0 draw as the head coach the year they went down. The Basque team returns to the top flight after a season in the Segunda, hoping to win their first 3 points in the home opener. Can Sevilla shake off the cup final defeat and show their European pedigree at the Mendizorroza?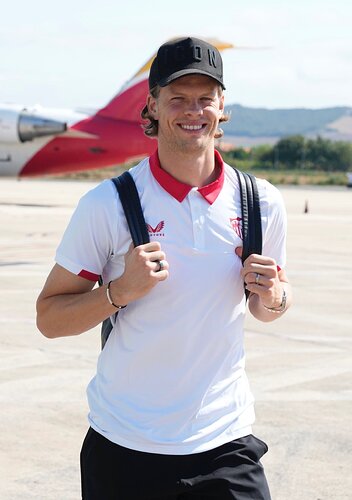 #NuncaTeRindas
#WeAreSevilla
Great post, thanks! Excited to see the guys "open a can", so to speak. Hope the boys are as anxious for a win as we are!
Think Alaves got some improvements compared to last year in the squad but still will struggle to find goals. They got some youngsters from Madrid and all together a more dangerous bunch that can surprise in the odd handful of game but I don't think it will be against us tonight. Vamoos mi Sevillaaa!
The liga threw us some help putting the game back half an hour against Valencia, but they have not deemed it necessary today with equally high temperatures in the north.
Didn't help Beti last night either.
I'm starting to imagine maybe he was vexacious in his signings, Marcáo, Dolberg, Januzaj and Nianzou look more like sabotage?
I'm starting to think that too.
We cannot rely on Marcão. I know Gattoni has struggled so far (but so did Kounde) but at least he is available and fit to play.
Tough game tonight. They will be highly motivated being their first home game back in the top flight. We have to match their energy from the start.
At one point we had a good record there but we have also struggled there at times too.
Let's hope for the best! Vamos mi sevilla!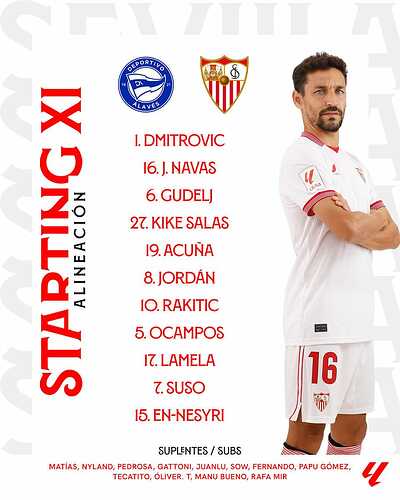 Kike is preferred over Gattoni.
Jordan & Rakitic again like butter on toast.

But my eyes are here for SUSO NATION !
VAMOS MI SEVILLA !!
And not for nothing, but how is Navas starting like he didn't need to walk off the pitch 5 days ago? He always does this.


The horse is dead, stop flogging.

Today will be the first win of the season, I feel it!