The season is finally here — or already here — depending on your perspective. Things move so fast in the football world that it feels like just last week José Mourinho was complaining about Anthony Taylor's refereeing. But after our fair share of ups & downs, comings & goings during pre-season, we tackle the rebranded LALIGA EA SPORTS for the 2023-24 campaign.
It is a much better vantage point than the start of last season, but with its own share of question marks. This time around with Mendilibar in his 1st full season as head coach, we've yet to figure out whether Marcão & Nianzou are the future of our defence. The recent recruitment of Bade & Gattoni, along with Gudelj's contract renewal, allows us to worry less about the injured pair of centre-backs.
But heading into the first game, we may have a mini goalkeeping saga, with Yassine Bounou once again gaining interest of Europe's elite. After PSG & FC Bayern, it is now Real Madrid looking to tempt away the Moroccan shotstopper after losing Thibault Courtois for the season. It has always felt like Bounou was on the transfer list at the start of the summer, but this latest twist brings back the feeling of uncertainty with our #13.
Moving up the pitch, the engine room is finally seeing reinforcement, with the addition of Djibril Sow, a box-to-box midfielder providing relief to the vintage pairing of Fernando & Rakitic. The Swiss player appears the ideal profile to bridge midfield & attack, where our usual ensemble of forward players need renewed inspiration. Our newly appointed sporting director, Victor Orta, is still likely to add fresh faces to the forward line. Whether that also includes a replacement for Rafa Mir, who's been linked with Valencia for several weeks, is still left to be seen.
Speaking of the visitors, they're scum and i won't waste my words on them. They should of gone down last season, so let's win all 3 points and help 'em get there.
Predicted XI (4-2-3-1): Dmitrović; Navas, Bade, Gudelj, Acuña; Sow, Rakitić; Ocampos, Suso, Óliver; Rafa Mir.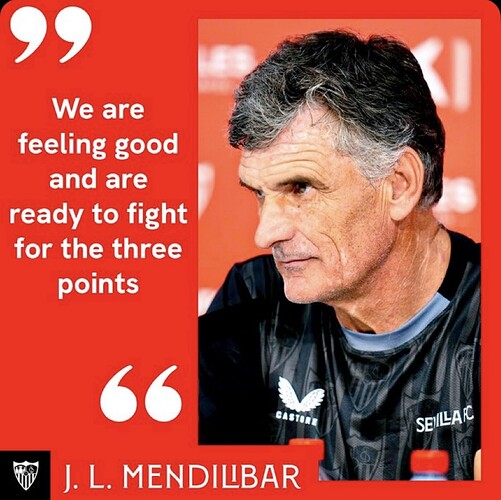 VAMOS MI SEVILLA !!
#NuncaTeRindas
#BonoQuedate
#WeAreSevilla
Can we get more of these this season? Just great work!
Quite unfortunate that Marcao his body seems to be made out of micro fractures and muscle tears.
I believe in Gattoni, he's aggressive enough at least but our centre pairing we will find out soon, as I felt like Badé and him both prefer right centre back.
I don't think starting Rafa makes sense if they always looked for him to be send elsewhere and has likely been in extensive talks with Valencia with the option still being open. You either give him trust or sell and play Youssef who might be in a similar spot so I guess it doesn't matter.
I'm still an Oliver fan and don't like the left wing treatment he gets as much even tho he makes it work functionally but Mendi won't take Jordan out so it is what it is…
Up front a lot needs to happen but yeh…
Idrissi, Suso or whoever is most ready. But if fit this would be mine.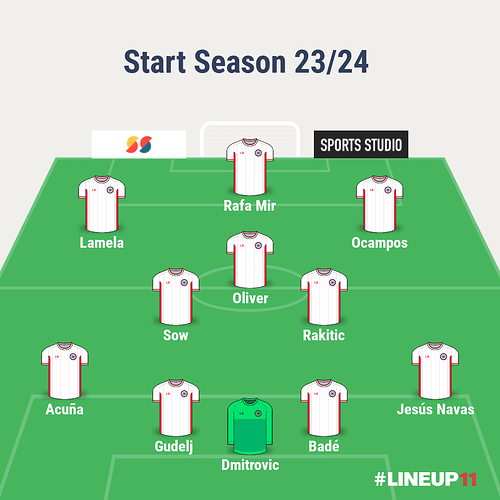 We bought tickets for the match. It is going to be hot. This will be our last match we attend in person for a while. We are moving back to the US in a couple of weeks. The kids miss their brothers who are in college in Florida. I guess we will be giving Florida a go for a while.

If he starts too weak, things might get problematic early. But I can see him prefer his main options from the bench.
Pedrosa is vulnerable and error prone and both him and Gattoni still adapting. Minimalize too much of these at the start.
First time I've seen 51ºC register on the car screen, this doesn't bode well for tonight.
Dmitrovic didn't train a couple of days, he still has some irritation from the game in SF.
I forgot to mention earlier that Sergio Rico was back in surgery last week for an anyeurism in the brain, poor guy and his wife have been through too much already.
Agreed, Pedrosa is highly inventive going forward but not as a defender and Gattoni hasn't impressed me so far.
Sad to hear that you have to up sticks but I hope you settle OK in Florida.
I was thinking the same. Sorry to hear the Sevilla experiment didn't turn out as you expected. Would love to know more of the story, but certainly don't want to pry! I know a certain @ChrisLail and @Christin have often had a vida sevillana dream, so I bet they'd benefit from your experience with life as a yank on the banks of the Guadalquivir.
Fantastic opening post bro. Really helps build the hype. Let's hope for a strong start and try get that first win in front of the home fans.
Vamos mi sevilla!


Still sticking with Rafa Mir? Interactions with him on La Liga Summer tour confirmed my impressions. Dumb as rocks. Don't tell Valencia.
Pepe Castro was the only one who competed with Rafa when it comes to drafty upper chambers. Limited data points, to be fair, but neither one impressed me.
My wife and I could stay and be fine. We will likely be back once we truly are empty nesters. In some ways it is hard living here with kids, but in others it was easier with kids as it made it easier to meet people. We have some expat friends here who do not have kids and even though the wife is fluent, they struggle to meet people because they lack a connection. We meet a lot of people through the local soccer club and friends of our boys.
It is hard with kids because even though the boys were good at first with the soccer team and making friends. The schools are pretty harsh. Beyond missing their brothers. Dealing with Spanish public schools was hard. It is Lord of the Flies in the school. Teachers do not do much to stop kids from bullying and in a lot of ways the teachers themselves are bullies. Due to the laws, kids are mandated to be in school until 16. Troubled kids just get suspended and pushed between the schools with no real repercussions. The teachers lack empathy. They would read out the grades in front of the whole class mocking kids. We set our expectations for the boys to improve their grades every month as they acquired the language and they did meet it…they ended up passing their classes and were promoted to the next grade. For me, teachers regularly belittling kids in front of everyone is BS.
It hasn't been all bad. The boys are pretty proficient in Spanish now. Before, they didn't know any Spanish. We have all made friends and have been able to play and watch a lot of soccer. We are pretty nomadic, so coming in I didn't expect us to last longer than a year or two. Whenever people would ask how long we were here for, I would answer not sure, but as long as the kids are doing fine, we will stay. :).
Chris should totally go for it. Even being here for a few months is worth it.
I'll assume you meant "hasn't" been all bad, no?
Say what you will about this lineup, but I can tell you one thing. This lineup could win a European trophy.
Rather, almost this exact lineup DID win a European trophy just 2 months ago.
Very happy with the lineup. Start off with your best, and cast any doubts aside. VMS !!