Glorified dutch league.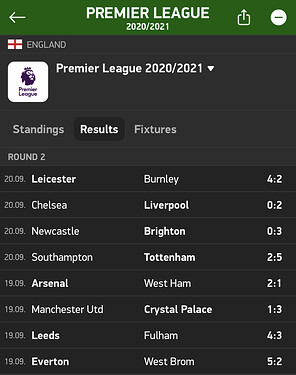 Aye, and congrats on the W at Old Trafford. @SurreySevilla
Did you watch the game? We owned them pretty much the whole time.

Then all they kept saying was that we had the advantage of having played already the week before.

If it had been the other way around they would have said Man Utd lost because they were more tired than us.
British press are such shithouses sometimes. Cannot give us recognition for a great performance.
I watched it and i agree. United knows Palace is always a problem and y'all played that game perfectly. Man U always struggle when teams sit back and counter them, cause they want to play that game as well. Lindelof could not cope with the attacks and was at fault for all 3 goals.
It's a shame. Most of the attention goes to the top sides understandably. But this is a chance to highlight the clubs who are playing well, and actually know how to execute a gameplan. I didn't follow CP in the 2nd half last season but you guys started well. Not sure what the stat is, but y'all seem to take the most points vs the "Top 6". AND Michy is back!
Also i like what's going on at Everton. Still early, but they have a gorgeous midfield. Allan is incredible!

Our season ended last season as soon as we won the game that got us past 40 points. The players stopped trying.
It was bloody hard to watch for the last 8 or 9 games, but the lads have come back this season with a real sense or purpose so far. And there have been a few tweaks to the formation, tactics etc.
Farce in the MLS. That is a prime example as a Goalkeeper of why I think those penalty rules they brought in last year are complete and utter shit. How can you get booked for being 2cm off your line ffs?!
Crazy turn of events there. That is crazy to call, like barely off the line. I was reading about that this morning. So the new 2020 rule is the keeper gets a warning before getting carded. However, since MLS started before the new rules were in place, they are operating on 2019 rules that's why he got the card.
As a keeper I can tell you now it is complete bollocks. You cannot get a decent momentum to dive just sideways without a slight step forwards. Bear in mind that ok just part of a foot has to be in the line, but when you are focusing on that, you aren't then fully focusing on diving, stretching etc for the penalty.
The whole rules are basically there to aid the taker and for more goals to be scored. It has totally handicapped goalkeepers at all levels.
What was more crazy is the ref didn't know that you couldn't do a sub after regular time. So they had to give an outfield player the gloves and he made the fucking save. Just crazy!
To be fair everyone should know you can't make a sub after the game has finished.

But then no one expects their goalkeeper to be sent off for moving half an inch off his line in a penalty shootout.
MLS is such a joke. The refs are terrrriible.
I find it more crazy that you book a keeper in a penalty shoot out for coming off your line. You could do it twice by accident and your Sent off. In that case he did it once and was sent off.
How, why is that possible. I'm a keeper too, but I don't understand how you can book them for that in open play let alone a shootout. The punishment of getting retaken should be enough.
That penalty should have just been retaken and noone would have taken notice. Instead the Mls is getting more criticism and I do enjoy the mls. Yes the standard isn't the highest and hard to watch at times, but you oftern get good games. Plus I work nights in the UK so oftern is the only football on TV

.
That whole situation in Orlando was crazy and I just sat laughing through the whole situation. I'm glad they won it in the end.
So glad our game is tomorrow.

If it was Wednesday I would have missed it.
This discussion comes up every time there's a head injury. This is in light of what happened to Raul Jimenez vs Arsenal yesterday. Should there be an extra sub in case of a concussion?
I don't think it's a bad initiative. But I would ask the same if a different sort of serious injury occurred. For example, if someone suffers a leg break, would we make a plea for that as well?
It's a slippery slope right? I think the severity of a head injury requires special circumstances to remove the want by a manger to ignore the injury to avoid playing with 10. The other alternative is a fine of some sort to remove that want. It's a bit different from a broken leg that the player could theoretically continue playing with a concussion as we have seen before.
The other thing is how do you prevent teams from "faking concussions" to get a 6th sub?
Wow… RM losing again, now vs. Shakhtar Donetsk and it is seriously risking their chances to advance to the knockout stage of CL.
It seems that they only put an effort and try to win at all costs when they really want to (like vs. Inter, although Inter is crap). Hopefully a similarly uninspired RM will show up against us on Saturday. However, I think that since they're performing so terribly at CL, they might see La Liga as their only salvation and with the help of their pals (read: referees), anything can happen.
Who IS the referee Saturday?
Rumors already started that Pochettino is on his way to Madrid. haha
I'd personally give this to Barca and Messi instead, especially for what they've done with Guardiola as manager.