WHEN?
Thursday, October 3rd, 2019
1500 EST / 2100 CET / 0500 AEST
After realizing its first victory at home this season, Sevilla will hope to achieve that same feat in the Europa League on Matchday 2. Visiting Nervión are the 7-time defending Cypriot champions APOEL, who have been making a name for themselves in Europe in recent years. They'll be seeking their first 3 points as they were involved in a 4-3 defeat at home. They came back after being down 2-0, but Dudelange left with the spoils after answering with a comeback of their own. Safe to say there might be goals in this one.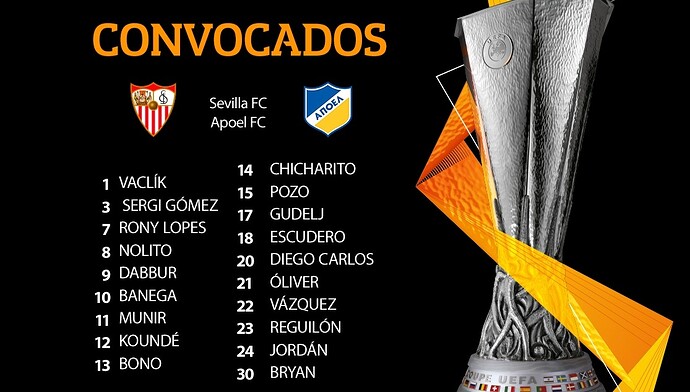 "I wouldn't call them rotations, but squad management." - J. Lopetegui
At last, we see a squad with the usually discarded players. Gómez, Bryan & Dabbur are all included in a list of 19. Excluded are Ocampos, Navas, De Jong, Fernando and Carriço, with the latter hoping to be fit for the visit to Barcelona on Sunday.
ROTATION
Regardless of what Julen calls it, we'll at least have a different striker leading the frontline. These extra matches of European football are a blessing, as they give us a chance to develop team chemistry. Speaking of which, for those that missed it, our 3rd goal vs Qarabag involved 37 passes and went through all 11 of our players, before finding Óliver who finished in style.
¡Vamos muchachos!
#WeAreSevilla