De Bruyne injured, won't be playing. If another dozen get injured we've got this !
Think that one was taken when Rafa took the ball for the penalty in the friendly against Magdenburg
Something to get y'all warmed up for Wednesday.
Have a listen to the goals from the last time (only time!) we won the Supercup:
Goles de Renato, Kanoute, Maresca.
Interesting trivia: Antonia Puerta came on as a substitute for this match. He died exactly one year after this match, Aug 28, 2007.
ANALYSIS: And if you look at this squad we lined up, while pretty legendary in its own right, if you look at who we were lined up against, I think the Barcelona of 2006 isn't too far off from the Man City of 2023 in terms of their position in the heirarchies of European football.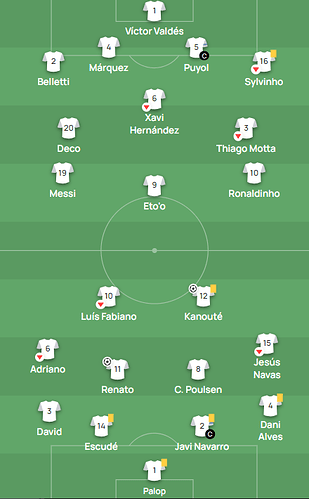 Our list :
Bono, Dmitrovic, Alberto Flores, Jesús Navas, Juanlu, Montiel, Badé, Kike Salas, Gudelj, Gattoni, Acuña, Pedrosa, Fernando, Sow, Joan Jordán, Manu Bueno, Rakitic, Óliver Torres, Suso, Papu Gómez, Ocampos, Tecatito, Lamela, Rafa Mir y En-Nesyri
I always thought Messi came on in the second half, I checked and it's correct, he was a starter, just shows how memory invents the past.
Fernando down, could just be a case of castro entreritis in which case he'll join up tomorrow.
We won in Budapest without Acuña, I suppose the same principle can apply. Saw some debate on Twitter about the degree to which Sow can take that spot, or whether we're basically just screwed without Fernando in the lineup.
Is this televised on CBS (Paramount plus) in the US?
Just saw the Livestream of the team this morning said …"but Fernando may still travel tomorrow"
One can always hope
Another novelty/nostalgia that came up in the Livestream is that this is not the first time that SevillaFC plays in this stadium. And the last time, Sukor put a beautiful goal in the back of the net against Olympiacos to seal Sevilla's place in the Round of 16, where we'd eventually fall to Barcelona (held a 1-1 draw at the RSP and then got knocked out at the Camp Nou 3-1).
One of Sevilla's first big European performances in the knockout rounds, certainly helped lay the groundwork for what was to come.
Couple bits of other trivia here. Three other notable names in that SFC squad: Manolo Jimenez, Juan Martagon (who I got to meet in San Francisco, briefly) and Unzué, who most recently managed Celta and Girona.
Post update: another bit of trivia. Monchi was the backup keeper on that squad. The following season, they were relegated to Segunda.
is this the greatest Sevilla lineup ever? Obviously winning Europe/SuperCup is one thing, but that roster was really really good
I would say so. We had some great teams over the years, however there was just something special about that team and squad. We were so exciting to watch going forward and blew many times away.
The 4-4-2 formation worked perfectly for us back then and we were so balanced all over the field. We had a strong defence with Java Navarro, escude, and palop leading the way. We had the speed and quality of dani alaves, navas, Adriano, puerta, David, etc on the wings and fullbacks.
We had the perfect strikers and deadly duo in Kanoute and Luis Fabiano and great cover with Kerzhakov and chevanton. Then a stacked central midfield with great experience but players still in their primes like Poulsen, maresca, Renato, etc.
It was just stacked with quality, good balance, experience, talent and pace too. I really think we should have won la liga in 2006/2007 year. A mix of la liga officials corruption and focusing to much on other competitions cost us in end but I felt we were the best team that season even though we fell short in end.