Sevilla resumes their Champions League campaign, after yet another poor result in the league.
This continental competition might as well serve as solace for the disappointing run of results in LaLiga. After an inexplicable 3rd straight loss, Sevilla will hope their rotten league form doesn't spoil their good work in the group stage. The loss on the weekend didn't materialize from a completely dismal display. Sevilla played well for large parts of that 1st half, and also during the opening 10 minutes after the interval. But for what Lopetegui usually has a grip on, his in-game management was an utter failure, and we couldn't close out the match.
Sevilla's focus seems to have primarily been on the midweek fixtures. No footballer will admit to thinking ahead of the match before them, but it can be assumed that, subconsciously, it is still a factor in how they perform in the league. Thankfully, it is still early in the season, and early enough to pay attention to the league table. But it cannot be helped to think that any possibility of a title challenge has more than certainly faded. The pressure of expectation may well have played a part in these losses, but it is also evident that Julen's team hasn't yet evolved from last season's version.
Sevilla are still without Sergi Gómez, Suso & Idrissi. Alfonso & Zarzana have been called up from the youth team.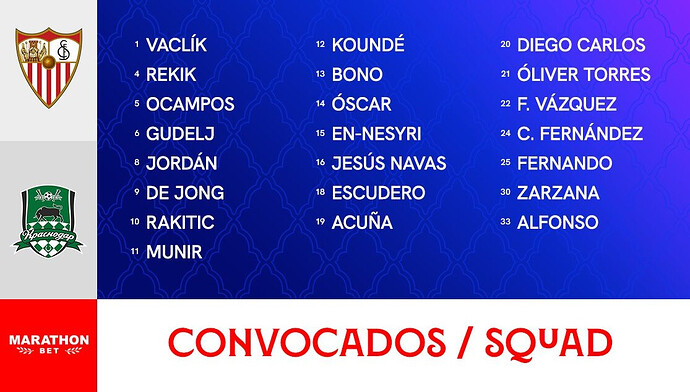 The opponent on the pitch, FC Krasnodar, is from Russia. But as what's been the case lately, Sevilla's only opponent are themselves and how they will overcome this bad run of form. There is no question that nothing other than a victory is expected at the RSP tonight. How that will be achieved is irrelevant as they must simply fight through this. More goals would be nice, but the squad simply needs to get back to their winning ways.
Ivan Rakitić: "We know we must improve. We will make sure it doesn't happen again."
#VamosMiSevilla
#NuncaTeRindas