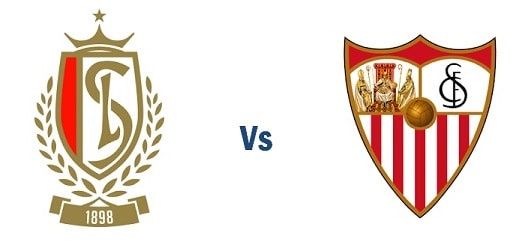 We should be able to win this one. A potential win could also mean top of the group if Krasnodar fails to do so vs. Akhisar - then all we'd need is a draw at home in the last match vs the Russians.
VAMOS MI SEVILLA!!! VAMOS CAMPEON!!!
At least there is no gnagnon, that's a relief.
Great cross by Arana and WBY just pushes it over the top of the net. 22'
Mudo spilling more possession than Banega, makes a change, but less than Promes, so not too bad. Defence is extremely organized, I hope they don't sufer from the lack of connection upfield.
Man Mudo off the bar! So close
Banega everywhere doing a great job but things beyond his control, going forward, are not happening so smoothly, now he's got a yellow card.
Wobbly table picks up his customary yellow card.
Standard now have two injured including the one twice as fast a Promes, looks promesing.
That one guy has all of our defenders tripping over themselves; we might end up with some sore/broken ankles if he keeps it up.
We really need Promes to start bangin…
what the hell was there? Our captain just stops playing and raises his arm.
I'm sure the goal was offside, but you still have to play to the whistle. I'm worried about a red card now out of frustration. Too many bad/wreckless tacklers on yellows
1-0 down.1 man down. I should be angry at this, but I low-key like these scenarios, just to see if anyone will step up.
And there you go. Well shit.
We need this point! Vamos!
Banega's FK's are shit now.
I have to ask… is Kjær trying to matchfix this?