In what is surely the biggest game of the weekend in Spain, we face our rivals in Valencia at the RSP. It is also our chance to catch up on 4th place Getafe, who lost to Leganés in the South Madrid derby yesterday. Even Alavés got slapped up by Atlético. It's perfectly set for us to reap the rewards and climb up the table. As long as a certain Mr. Gameiro doesn't get into his comfort zone here and spoil the party, we can be level with those blue Burger King-sponsored bastards from the capital.
Here's our starting XI: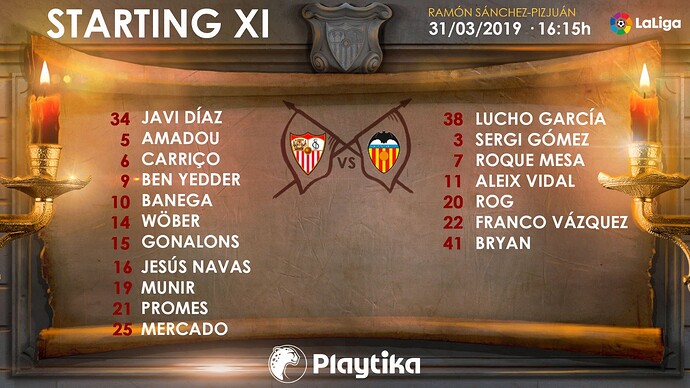 Still no Pablo Sarabia, as he's struggling to regain fitness OR possibly being held hostage until he renews his deal. But we have a similar lineup as the last match vs Espanyol, except for a noticeable change in goal. Will it be like Sergio Rico in 2015? We have 3rd-string GK Javi Díaz starting in place of the injured Vaclík & the suspended Soriano. He played the 2nd half vs Schalke last week and looked quite comfortable. Let's hope that'll be the case again today. The only other change is up front, where Munir deservedly replaces André Silva.
Valencia is always a tough opponent, and let's not forget what happened with them last season. Forget that, even the reverse fixture was some bullshit. A last-minute equalizer as the fans were calling for Marcelino's head?! These kit-stealing mongrels need to be put in their place for that crap.
¡VAMOS MI SEVILLA!