Hope everyone is coping well during this international break. It might actually be a good thing for everybody. But the football don't ever stop.
We play the 10th edition of the Trofeo Antonio Puerta this evening vs Schalke. Yes, against the same team which our boy Antonio scored THAT goal. Caparrós has called up a squad of 20 featuring various players from the cantera.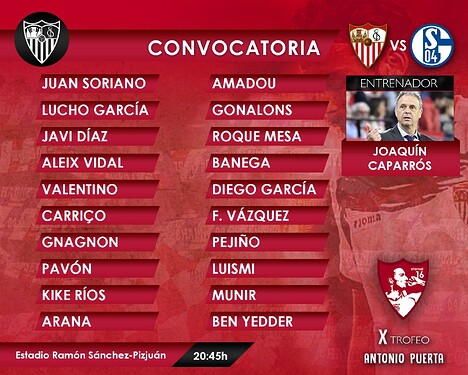 No Bryan Gil as he's with the Spain U19s. I am glad to see Pejiño called up again. Hope he sees some playing time.
There was a suggestion this week that we may play one of these friendlies against Real Betis. What do you guys say to that? Y'all for or against it? I feel it would dampen any growing animosity, at least in the short term.
The match will take place at 2045 CET / 1545 EST, and can be streamed live on the Sevilla FC website, Facebook & Youtube.
And with all that, Antonio, let me just say that our left flank still hasn't been the same without you. We miss you. We love you. And thank you for all you done for us. You will never be forgotten.