With almost a full squad back in training, the boys from Nervión prepare themselves for El Gran Derbi against the local rivals from Heliópolis. It feels like an eternity ago since the last match at the Villamarín, all the way back to Matchday 3. Much has transpired since then, but at the same time, not really (aka — we're still ahead of them). If anyone isn't familiar with how these matches have been recently, here's a look at the H2H: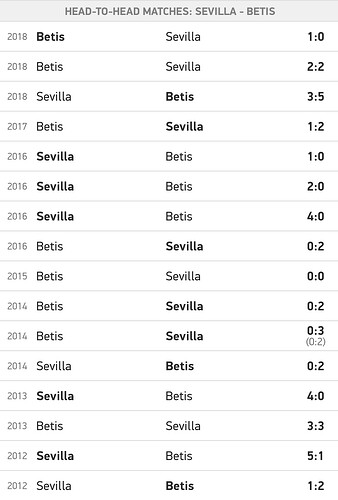 Earlier this decade, I remember these derbies being quite scrappy with a lot of shithousery. There's still a bit of that as these types of games tend to be. But the style has changed as nowadays Betis actually have a bit of quality on their side. A simple glance at a midfield of Carvalho, Guardado & Lo Celso says this team can do more than just disrupt play and try to steal a result from a setpiece. However, it's been a mixed season for them after last campaign promised a lot of potential. They aren't scoring in bunches like last year, and this has been since they started the season. But don't expect me to feel bad for them. For myself not being from or living in the actual city of Seville, the view from afar is still clear: a better Betis makes El Gran Derbi much better.
But how about the more important half of the city? Well, since Caparrós took over, we've won 3 & lost 1, scoring 5 goals & conceding just 1 (Valencia pen). That kind of form just screams out solidity. Contributing to that is the presence of Carriço, who has surprisingly been our best CB this season. Also, having Gonalons back has protected the defence and has brought discipline & diligence in the centre of the park. Those qualities which i felt were missing when a certain Roque Mesa was featured there. But lo & behold, the man of the hour, Roque looks a reinvigorated player once again under Caparrós. This might create a selection headache for the coach as to who will form the partnership in central midfield. Either way, we can at least admit we feel safe with this pair of hands after the clutch substitutions last week at Valladolid.
As if that match wasn't stressful enough, Caparrós had revealed to us post-match that he'd been diagnosed with leukaemia.
"I have Sevilla in my blood but I have now been told that I do have a problem with the white and red blood cells in my body, I have chronic leukaemia," Caparros revealed after the match.

"It will not stop me from doing my job or continuing with normalities in my everyday life, I am not receiving treatment for this and nobody should panic about me.

"My idea is to continue enjoying this job and working for this wonderful club. I will not discuss this any further."

— excerpt from Football España article [http://www.football-espana.net/77640/sevilla-boss-joaquin-caparros-confirms-leukaemia]
Siempre contigo, míster.
Forever with you, boss.
---
TEAM NEWS
With the open-door training session having taken place today at the RSP, a notable omission was André Silva, who has been ruled out for the derby. Everyone else, bar Wöber (out for season), is seemingly available for selection. As usual for home matches, the matchday squad will be released the day of.
So guys, how should we lineup tomorrow? And more curiously, what is everyone's favourite derby moment?
Nothing is promised in football, especially derbies, but tomorrow's match should be fantastic.
#ElGranDerbi
#LuchaPorLoQueAmas