Originally published at: http://monchismen.com/sevilla-v-atletico-madrid-copa-del-rey-quarter-final-2nd-leg/

Only one short week ago few would have expected to be coming into tonight's encounter against Atletico Madrid on the back of two consecutive away wins, not to mention holding a one goal advantage. However that is exactly how things are, as last week's brave performance and eventual 2-1 victory means that another semi-final Copa del Rey appearance is within touching distance.
Sevillistas have responded in their droves to the rallying cry from the club to sell out the Ramon Sanchez Pizjuan, and no wonder, as we all know fine well just how important a vociferous home support can be in matches of such high importance. The game has sold out and as it so often is, today is a beautiful night for football in the city. A 21:30 kick off under clear skies and temperatures of around 13 C / 56 f for kick off will make for ideal playing conditions under the lights. On so many occasions we have successfully risen to this sort of challenge, can tonight be another?
Should we progress, it won't come easy. That is guaranteed. Atletico will fight as only they know how. Expect lots of nasty tackles, dives, yellow and red cards aplenty. This could get ugly, and with guys like Diego Costa around, things invariably do. It would appear that he is not in their squad tonight however, but regardless, Diego Simone has assembled one of the fiercest and ruthless teams in modern football history. It will take a brave and strong Sevilla to see of their threat tonight. Added to that is the threat from ex-Sevillistas Gameiro and Vitolo, the latter is sure to receive a hostile reception after his ignominious departure after apparently signing a new contract with us last summer. Gameiro and Griezmann are due to start, so it is clear they will be going all out for goals from the start.
The starting XI is in, and once again, and unchanged team! Three games in a row… that must be a new record? Fatigue could become an issue, but with so much at stake, adrenaline should see any struggling players through. Should it go to extra time however, that would be a different matter. Muriel ran himself into the ground at Español, and capped his performance with a wonderful solo effort. More of the same please young man!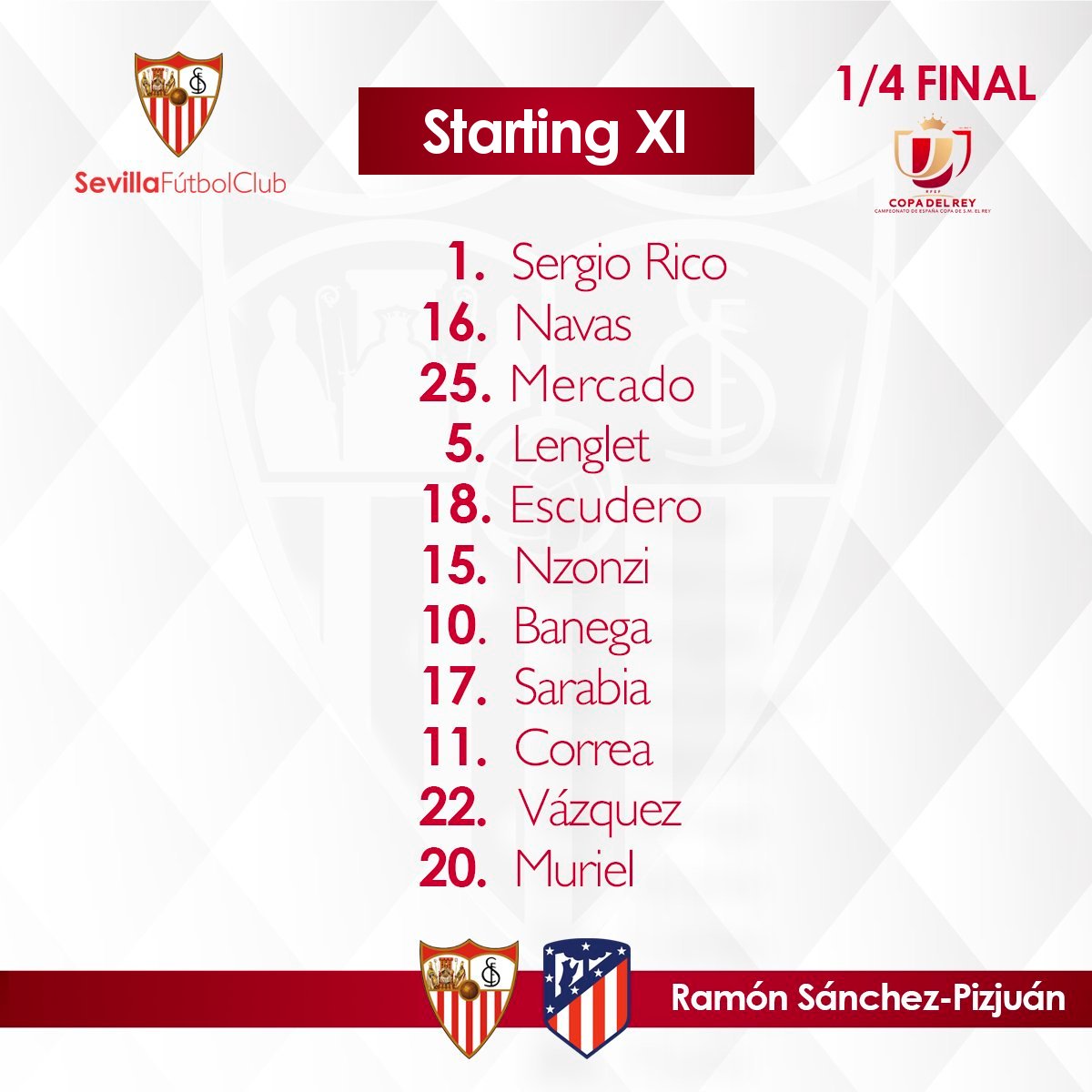 Atletico are one of the few teams I have never seen us beat at home in the flesh. A 0-0 draw and a 0-3 defeat have left a bitter taste in my mouth. However tonight a draw would do just fine for us.
Score prediction 2-2
¡VAMOS MI SEVILLA!