WBY is king at Anoeta! Just reading that he got injured. We're gonna have to earn that 2nd spot today.
Vamos Sevilla! We missing a few key players but let's hope our squad is strong enough to cope and get the 3 points. Will be tough but we can do it!
Wait what…? Why there's no WBY or Silva. I know Silva is injured but it didn't seem much serious as not to be called up. What happened to WBY?
WBY suffering from discomfort in the right hamstring.Time for Sarabia to step up again.
This is going to be tough.
Encouraging half we unlucky not to be ahead! It's tough game but we can win this! Vamos!
La Real keeping us at bay, with Navas in a tough matchup vs Theo. We do have 2 very mobile forwards, so we have a chance if we catch them on the break. I think Escudero would be a good sub to balance out the flanks. Arana is not horrible, but we can do more on that side. I also don't trust him vs Januzaj.
As per Brian, Sarabia will have to be the one, cause you look at the bench, and all we have is some guy named Nolito as an attacker. (Surely Pejiño would be best at this point, no?)
Not optimistic that we'll get a positive result out of this one, but anything could happen.
Arana getting slaughtered by Januzaj and it's not looking good. Maybe it's time for Escudero to be fielded (perhaps Vidal later on as well).
Thank heavens Sergio is back!
Harsh to take off Muriel over Promes. He's been the far better of the two today.
Banega laid it on a plate for Mesa there.
With the players we have missing I don't suppose that result was too bad
By the way. How bad is Sandro? ha ha
I'll take a draw. Not a bad result considering we missing key players and we normally struggle at soceidad.
We level 2nd and 2nd on goal difference and have 2 home games to Come! Vamos!
Even with just 18 mins, Mesa still surprised!
Promes kinda remind me of kono, very good FIFA stats but not that good irl
Weak performance… but a draw is always better than a loss, especially at this point and away vs. Sociedad (no matter how off-form they are).
It's scary how our attack instantly becomes impotent once the duo Silva-WBY are absent.
Came out flat today. Our CM's couldn't impose themselves with our forwards so difficult to link with. Every other pass by Quincy didn't connect. We still don't have anybody pushing for a start to compete with our usual XI.
The match in Turkey should be a breath of fresh air. We got a tough one vs Espanyol next weekend. Let's hope our starting strikers are healthy by then.
Even if you saw it live, It's worth watching again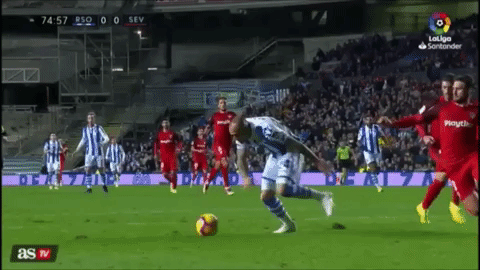 That's better than Van Persie!