If anyone is interested in joining us in Boston, here is the chart for the Sevilla Supporter Section: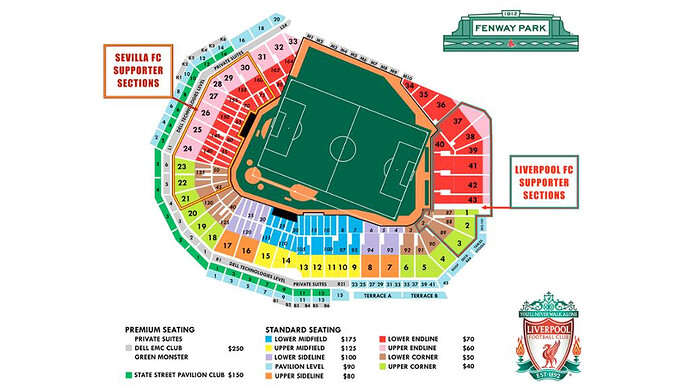 Prices look to be an economical $60.00 -$70.00 USD in that section. Tickets will go on sale at 12:00 p.m. (noon) EST on Friday, April 26.
So I have the password: Be sure to select Sevilla Supporters Section when you go to the website:

FENSEV is the password.
I have 12 coming from DC (mostly family haha).
Additional dates announced. Sevilla will be in Dallas on July 17th!
Dallas and Boston
During their stay in Texas, Sevilla FC will stay in Frisco, the metropolitan area of Dallas, and will train in the advanced facilities of the Toyota Soccer Center which is located beside the Toyota Stadium which boasts of 17 football pitches, the vast majority natural grass.
During this part of the preseason, the team will travel to Boston to face Liverpool FC on 21 July in Fenway Park . One day later, the squad will return to Dallas to continue with the preseason before returning to Sevilla on 24 July.
I have my flight to Dallas booked for the 16th. Will be staying in Dallas until the 20th when I fly to Boston for the 21st game with Liverpool. I'll be in Boston until the 23rd.
I am hoping to get access to training while in Dallas. Of course I will get as many photos and videos as possible.
Is anyone other than @Manuel going from this site? Please let me know so I can help communicate the schedule with you.
List of players traveling to the US: Sergio Rico, Vaclik, Javi Díaz, Corchia, Gnagnon, Carriço, Escudero, Kjaer, Sergi Gómez, Wöber, Arana, Jesus Navas, Sergio Reguilón, Diego Carlos, Koundé, Roque Mesa, Banega, Franco Vázquez, Aleix Vidal, Joan Jordan, Lucas Ocampos, Fernando, Óliver Torres, Ben Yedder, Munir, Nolito, Dabbur, Luuk de Jong, Mena, Lara, Pozo, and Juampe
No Amadou
Meeting at 4PM at the Westin Stonebriar if anyone is lurking here and going to the match tonight in Dallas. I would love to meet you and so would the team. Come on out.
Those pics with Monchi are priceless. And y'all even got yourselves featured in ED.

Tremendous work Chris, you've got Monchismen noted and approved. Perhaps the article should have noted that MM is the portal for English language aficionados. But don't overdo it. we don't want the Biris to get jealous

Any info on the SF game on Oct 12th? I still can't find ticket info.
Hey all. Longtime reader and lurker - Sevilla FC forever

I'm in the bay area and keeping an eye out for the tickets to the Pumas and Americas games. If anyone on here is going, let me know!
Whatup guys! Welcome to the forum @twointum & @SevillaFCSJ. Nice to see this squad growing.
There doesn't seem to be much details on the tickets for these matches. I'm sure the Sevilla website will have the info once available. Will try to keep an eye out for it, and report back here.
Hi @twointum and @SevillaFCSJ (good first name there)! Welcome to the forums officially. I'll try my contacts with the team and see if they have any information.
Also, I should do a recap post of my trip this summer. It was amazing.