Ugg 3 second half goals for :poop: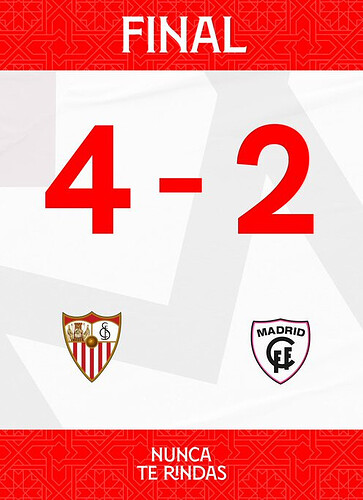 Big victory today. Tony Payne with a nice goal, Martin-Prieto with a golazo, Inma Gabarro with a goal and Sampedro with a PK goal.
That seems really strange. Why didn't she just miss one of the earlier round matches? It is so weird.
Is there any way to watch these games in the US?
Sevilla took the lead in the 54th. Currently in the 66th.
Almost made it two. Header cleared off the line. 20 minutes to go for a huge upset.
Barca ties it. 80th. Really lazy defending here at the end.
Huge result! 1-1 first time Barcelona has not won since June 2022! Well done women!
And in the league it's been 62 games in a row!
2-0 Winners!
Inma Gabarro - 32'
Eva Llamas 51'
In 7th tied on 40 with 6th place Tenerife who beat them last match.
15 points ahead of :poop: who are in 12th.
That's Inma Gabarro's 7th goal of the season (2nd on team) at just 20 years old.
The game against Tenerife has been postponed due to player's strike.