Shouldn't they still be on ESPN+?
Hmmm… I'll reserve judgment until I see a bit more. Been with us like a season and a half and never been that impressed so, one swallow doesn't make a summer and all that.
So definitely not the Fourth Division which SAT are in then.


Sevilla Atlético host FC Cartagena B next weekend. Sevilla C start their season at Home against Bollullos.
Registered Sevilla Atlético Squad (and age):
Matías Arbol - Goalkeeper (20)
Dario Benavides - Right Back (20)
Leo Kapilevich - Centre Back (20)
Ramon Martinez - Centre Back (20)
Diego Hormigo - Left Back (20)
Joao Daniel - Centre Mid (21)
Musa Drameh - Striker (21)
Capi - Winger (22) - Captain
Isaac Romero - Winger (23)
Antonio Zarzana - Winger (21)
Oso - Winger (20)
Vacant
Alberto Flores - Goalkeeper (19)
Lulo DaSilva - Centre Mid (20)
Xavi Sintes - Centre Mid (22)
Manu Bueno - Centre Mid (19)
Vacant
Vacant
David Santisteban - Striker (22)
Isra Dominguez - Winger (20)
Alexandro Fernandez - Striker (20)
Vacant
Vacant
Pablo Rivera - Centre Mid (19)
Vacant
Didn't even realize but Pablo Perez has now joined Atlético Madrid B.
Adri Peral has signed for RB Linense.
Nacho Quintana joined CD Lugo.
Carlos Alvarez of course went to Levante, whilst Ryan Johansson moved to Freiburg II.
Lots of vacancies there. Assumed will be filled with Sevilla C players as needed?
Usually the Sevilla C players tend to just get numbers over 25 like the SAT players do with the First Team. Looks like they are rolling with a squad of 19, probably to give the main SAT players the chance of good game time, and just supplement with C team players as and when needed.
Club website seems a bit slack so far this year (just like the club in general?), No Sevilla Atlético page up on the Teams section. You can find it on Google but it just takes you to last seasons squad.
SAT won 3-0 at home this morning with Isaac Romero bagging a hat-trick.

It could have been 7 or 8! They were flying. Top of the table.
Yet a weaker team than last season. Football is a funny game.
Sevilla C started the season with a 2-2 draw.
After 1.5 matchdays, let's not get ahead of ourselves, lol.
Then again, this is perfectly consistent with the form we saw at the end of last season. Mendi effect by osmosis?
Highlights from yesterday…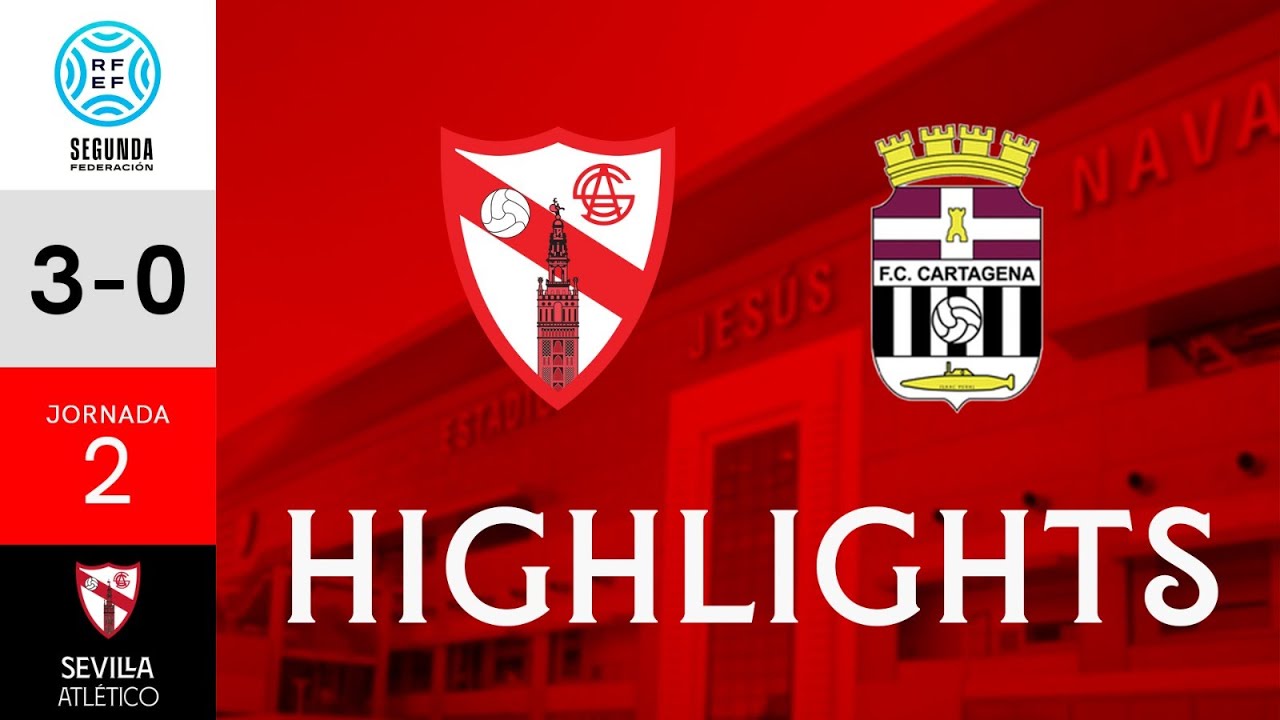 So random that Alberto Flores wore Black Shirt and Shorts with Orange Socks, and their Keeper wore Purple Shirt and Shorts with Yellow Socks.
Sevilla Atlético Away to Antoniano tomorrow, Sevilla C Away to Xerez CD.
Sevilla C match is on YouTube on Xerez channel.
Currently losing 1-0 in the 90th