So the trilogy begins against a rejuvenated Athletic Bilbao side who are unbeaten in 5 games (3W, 2D) after firing Eduardo Berizzo in early December. They aren't playing like the relegation threatened side of earlier this season.
We all know San Mamés is always a tough ground, and our record there has proven it. I could only remember that 1st leg win in the 2016 EL, and a 4-0 win in 2008. They have a rich history in this competition, so this is by no means a cake walk.
As mentioned, this is a trilogy of games. We're playing in the same stadium on Sunday, so it'll be interesting to see how Machín rotates this squad. Lineups are out, so this is how we're lined up today: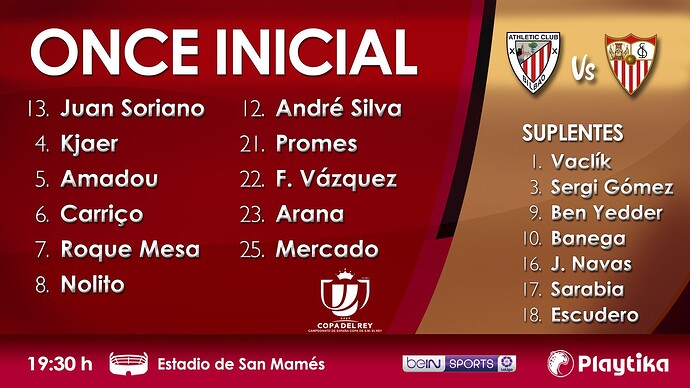 Looking like a 3-4-3…
Soriano
Mercado - Kjær- Carriço
Promes - Amadou - Mesa - Arana
Vázquez - Silva - Nolito
…unless Machín does something else with Nolito. Carriço & Vázquez are suspended for the weekend game so they get the start. I'm only interested in 1 player today, and that's Promes. We need him to excel for this team to go up a level. Either way, should be an exciting game.
¡VAMOS MI SEVILLA!