Yet another new era begins, but this time with a bit more hope. If you haven't already heard, Pablo Machín was sacked following Sevilla's elimination from the Europa League last Thursday. It was quite a dramatic way to go out, and Caparrós made the decision to part ways with the manager and take his place for the rest of the season. So who will then be our sporting director?
A lot of this hope can be attributed to the signs pointing towards Monchi's return. The tone in which President Castro spoke about their negotiations made it plausible, and now with Monchi's cryptic message we can now rest assured that he'll be presented sometime this week.
Bringing us back to the task at hand, an away trip to Espanyol awaits us. An away match anywhere should spell trouble for Sevillistas as we're now winless in 10 matches on the road. Will the 'new manager bounce' work in our favour? The team has arrived in Barcelona with this list of 19 players: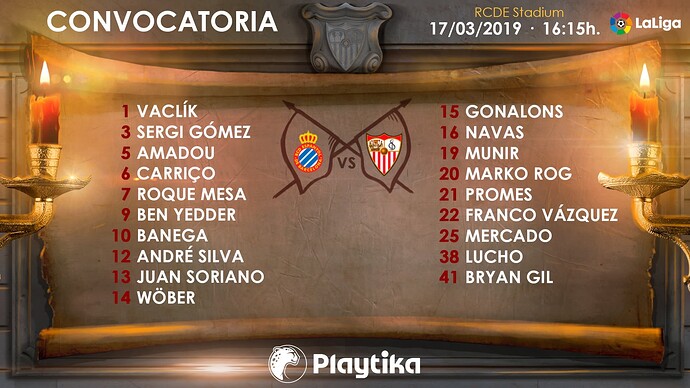 One notable absentee is Sarabia, who misses out for fitness issues; while Amadou reclaims his place in the squad. 3 goalkeepers have travelled, so there may be a last-minute decision on whether Vaclík will be fit for this match. Caparrós has largely preferred the 4-4-2 throughout his career, so I don't see him messing around with Machín's 3-5-2 business. I presume it would look something like this:
Vaclík
Navas - Mercado - Gómez - Wöber
Vázquez - Mesa - Banega - Promes
Munir - Ben Yedder
A win here will do a world of good as Valencia host Getafe right after we play.
Lucha por lo que amas.
¡Vamos mi Sevilla!