Let's be real. We're all playing ourselves if we don't think Messi & co. could wipe this deficit in the matter of minutes. This is a team that have made this trophy theirs for the past 4 seasons, and have the league's best player playing against his favourite victim. It's a fair argument to say we didn't build a big enough lead in the 1st leg, but it's still a lead. The clean sheet makes this encounter interesting, so we'll see if our beloved Sevilla are up to the challenge.
TEAM NEWS
The injury crisis just seems to get worse with every game. Frankly, we have no fullbacks. Although Arana is called up, he is also transfer listed. That leaves Promes or Mercado for the right side, and Sarabia or Javi Vázquez (canterano) for the left. New loanee Marko Rog has the chance to debut as he makes his first squad. Wöber picked up a knock as well, but may only feature on the bench. The squad list is as follows: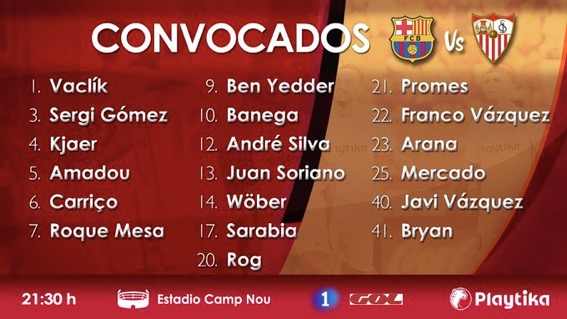 Our previous match in the Camp Nou (4-2) saw a spectacular Ter Stegen make some top notch saves that ensured Barça took all 3 points. The caveat is that they played without Messi for the majority of that game, even though in those 20-odd minutes he still managed to record a goal & an assist. We didn't play our best game, but we did manage to create a few chances. (Btw, a 4-2 would be enough to go through today.)
Same as the 1st leg, I'm not expecting much due to our recent away performances (San Mamés victory aside.) But i'd like to see players step up to the occasion and not crumble under the pressure in a big stadium. Eliminating Barça would break this Copa wide open, so why not go for it?
¡A POR LA SEMIFINALES!