RIP. Unplayable on his day.
Will be forever synonymous with THAT Super Nintendo Sevilla shirt.

I would love to have that shirt!
Prices will go through the roof even more now.
The man could iconisize literally any shirt. Example, whenever I think of Napoli the first thing that comes into my head is this shirt.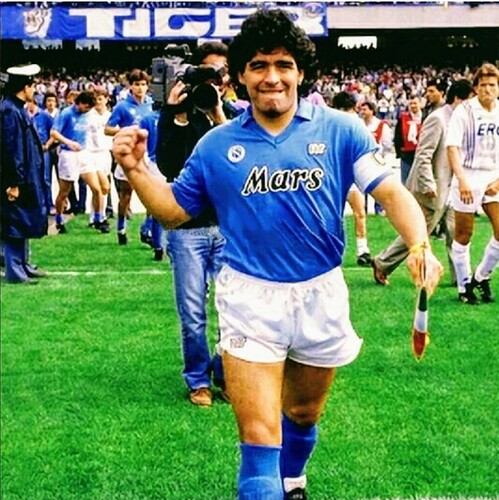 Particularly this little figure they used to sell when I was a kid.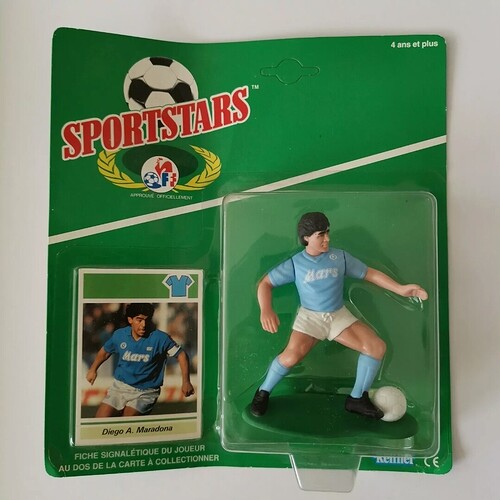 RIP.
One of many great players to have worn the Sevilla shirt.
Not all clubs can court some of the amazing players who have played for us.
RIP football maestro
I never saw him while present in the stadium but I've seen most of the greats including Pele, Eusebio, George Best, Zidane, Messi etc.
They are all different types of masters of the ball.
Same here Tim I have seen most of all the greats of my lifetime except Maradona.
Had it not been for the stinginess of the Blades' board. In 1978 I would have got my wish.
The Sheffield United manager Harry Haslam watched the 17-year-old Maradona in action on a scouting trip to Argentina and was so impressed he immediately arranged a £200,000 deal. But the transfer fell through when the Second Division club failed to stump up extra cash in back handers on top of the fee, so Haslam instead signed Maradona's countryman, the River Plate midfielder Alex Sabella, for £160,000. Sadly, although Sabella wowed the Bramall Lane crowds, he could not prevent the Blades sliding into the Third Division
I saw Pele play for Santos in a friendly against Sheffield Wednesday in the early 70's It was a midweek game played during the afternoon due to all the industrial action at that time with the evening power cuts.
He drew a crowd of over 50,000 if I remember correctly including me and most of my school friends, we had been warned beforehand that we would be severely punished if we didn't turn up to school after lunch as word had got back to the teachers that we were planning on going to the game.
There was no way I was going to miss the chance to see Pele in the flesh, even if it meant a few strokes of the cane.
In the end so many of us skipped school that afternoon nothing was said.

I'm surprised Maradona lasted as long as he did considering all the abuse he subjected his body to in later years.
But he was really something special in his prime, one of, if not the best.
RIP Diego.
The irony is that the detox he was on after his recent surgery is probably what done for him. Usually the way, the body cannot cope after years of reliance on things like drugs and alcohol.
Yep, that guy was not short of talent. I never knew the Maradona transfer fell through. Similar thing happened to Sheffield Wednesay with Cantona.
But there was another game of Sheff Wed v Santos in 1962, it ended 2-4 and Pele scored a penalty with a zig-zag run up, something that nobody had seen before.
Santos realised there was much more money in touring like the 'Harlem Globetrotters' playing exhibition games. They took a share of the ticket sales and the exhibition style influenced Brazilian football. In fact one of Sevilla's most loved players was Pintinho who was a bit extrovert on the field.
A lot of people seem to forget Leeds won the what would now be Premier League in 1992 with Cantona in their team.
Then sold him to Man United who … won the league
Several times.

£1.62m Leeds sold him to Man Utd. Imagine selling a player that good for that sort of price now. The fact we got £3.6m selling Ian Wright to Arsenal in comparison was quite a coup back then it would seem.
Maradona's first game for Sevilla, a friendly against Bayern Munich, 3-1.
If you think the stadium is half empty it's because the wooden benches were condemned and the entrance limited.
After the game Maradona cried like a baby to have played in front of spectators after 2 years out.
220 press reporters on the field before the start.
That hair was something else.

Sid Lowe with the article.