START TIME
Saturday, November 2nd, 2019
1330 EST / 1830 CET / 0430 AEST
As it seemed that our beloved Sevilla was finally turning a corner with an impending victory in Valencia, the ghosts of previous away day woes had resurfaced to impede on such thoughts. But not all is lost as we're locked in a 3-way tie for 3rd, with another chance to put some distance in between a direct rival in Atlético Madrid.
It is not often that we have success against Simeone's Atlético. We've won a grand total of ONE match in the league against Diego's men. Despite losing central figures in Godín & Griezmann, it is still a side that boasts one of the top squads in Europe.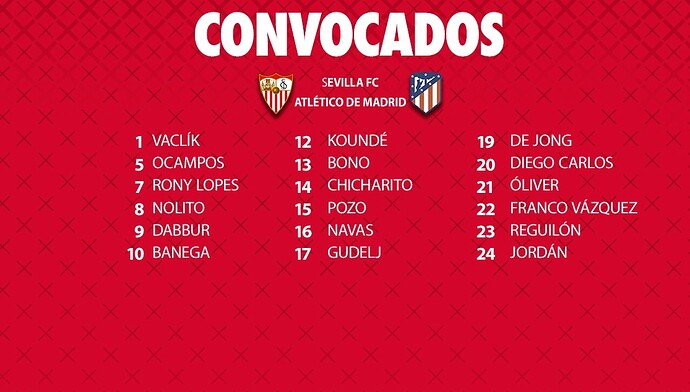 Lopetegui is trying to build chemistry with a consistent starting XI, but to his chagrin, the pillar that is Fernando will miss out due to yellow card accumulation. Defenders Carriço, Gómez & Escudero continue to miss out through injury. Dabbur finally makes the list of 18, as Rony Lopes replaces Munir.
Projected XI: Vaclík; Navas, Kounde, Carlos, Reguilón; Gudelj, Jordán, Banega; Ocampos, Chicharito, Nolito.
DAUNTING
Quite simply, we have to be at our very best to beat this Atlético team. Despite the pessimistic view from the other side, the opposing squad is much more talented on paper. This is not the team to have a poor shooting night against. The 2 points dropped in midweek must serve as a reminder of the dangers of complacency. Will Sevilla finally have their breakout game of the season?
¡Vamos chicos!
#MeLateTuEscudo
Post-match recap: SEV 1-1 ATM