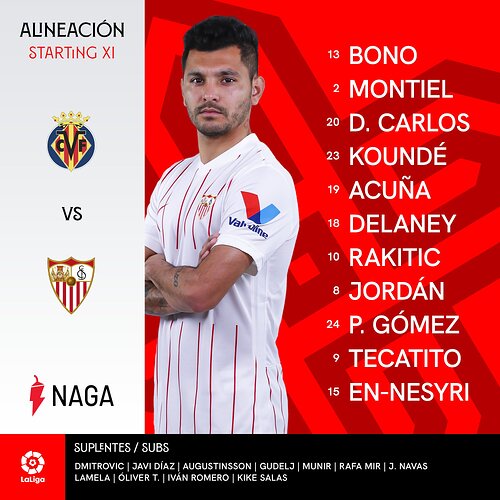 The opportunity to clinch UCL qualification is in our hands. Will this Sevilla team grab it?
#VamosMiSevilla
#NuncaTeRindas
What happened to Ocampos, he travelled with the squad?
I'm not sure about Ocampos. We'll probably only find out after since this team hardly ever gives out any info.
Also i'm unable to follow this game live. I might tune in for the 2nd half.
What a shot from Chukwueze. Crossbar keeping it even.
Well this isn't fun so far.
10 minutes in. How we feeling, folks?
Personally, I'm scared. Villarreal has been outplaying us since the opening whistle. It could be a long afternoon.
The Villarreal movement has got us dizzy, we need more possession.
What is Acuña doing today?
They might have put rebujito instead of water in the bottles during preperation.
I think Ocampos will be a covid positive, lots of new cases thanks to the Feria this week.
One shot on goal against this shakey keeper. And it was a shitty shot. Terrible
Not an inspiring first half, as expected.
Think it's funny how they use the excuse of the double/triple schedule to defend themselves all year. And since we've been out of all the other leagues, Copa and CL, and EL, 0 improvement was shown. And then in the press conference before Lope saying it will be equal beforehand, while Villareal being completely exhausted and devastated midweek. And still getting another one of those showings today. Lope looking more stressed and hopeless than ever. Maybe the inside media was right, and he's on the kicking block.
After the first ten minutes I gave up hopes of 3 points or any points but we have stabilized a little, though we continue to make unforced errors every minute. Untidy performance, even Tecatito has been untidy.
Papu down 4 times and one was a challenge by Acuña !
I suppose the second half will signal the end of the long ball to En Nesyri and the introduction of Rafa Mir.
Lamela might be the answer.
We are really missing the calming influence of Fernando in midfield aren't we
We are very good at hanging in games. I will give us that and defence good. Not offering much in attack again. I'd take a 0-0 though if offered.
Villareal by far the better side. Bono is to thank for us not being behind.
Not much for us to shout about. Tame shot from YEN, Papu effort and Carlos chance about as much as we created.
Hopefully better in the second half. I'd take a draw from this game and hopefully get the win at home to Mallorca in midweek.
We might actually avoid defeat to Villarreal and not concede to them over 2 games. Still 45 mins to survive but would be remarkable if we do considering the 2 matches against them were tough.
Sooner rather than later I hope
Yeh, he's done all the normal work plus an exceptional save maybe two.