SEVILLA FC (4th) vs. SD EIBAR (17th)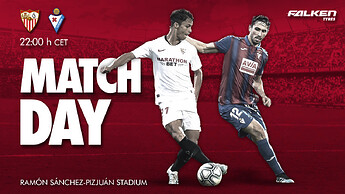 Sevilla had their longest period of rest since the return from lockdown. After a run of 4 draws, a 3-0 win away to Leganés eased them into the longer layoff after increasing pressure from Villarreal & Getafe. Now that both those sides have dropped points, Sevilla now has a chance to regain a firm grip on 4th spot.
The reverse fixture was one of those forgettable away days where we surrendered a 2-0 lead. A total mental collapse which we have seen our backline learn from. Especially young CB Kounde — serving a suspension this match — who's nerves sparked Eibar's comeback. His stand-in, Sergi Gómez, unfornately has only helped this defence keep 1 clean sheet in his 6 starts in the league. Is a long night ahead for one of La Liga's best defences?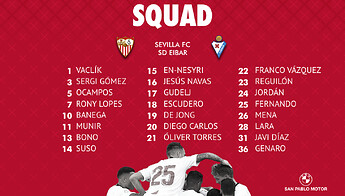 Mendilibar has always made his team a tricky opponent. Their often risky high-pressing strategy tends to stifle teams who struggle in their build-up. This can prove difficult for Lopetegui's squad, who usually start off slow. Eibar will be without midfield enforcer Escalante, and perhaps their most creative player in Orellana.
Our home games have left a lot to be desired, with or without fans. In stark contrast to previous Sevilla sides, we have the 2nd best away record, while we rank 11th (!) in terms of home performances. Also, we have scored in the 1st half in only 5 of those 16 home matches. Will Sevilla carry the momentum from last game and show their superiority? Or will they revert to playing down to the level of their opponents?
#VamosMiSevilla
#APorLaChampionsLeague