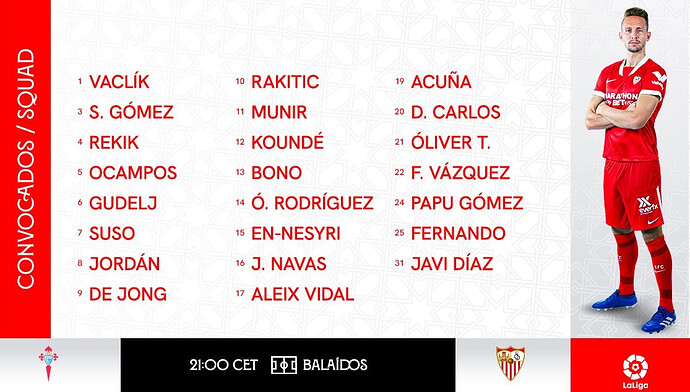 Aleix Vidal returns, while Escudero is still out (diagnosed with COVID-19 since last Saturday).
#VamosMiSevilla
#NuncaTeRindas
Funny enough and as things stand, a win tomorrow night could make La Liga at least a bit more interesting for us since we will secure the 4th (not mathematically, but it would be very hard to screw it up from there) and wildly dream for the title as underdogs (although the refs won't allow it, but why not dream at least

)
I got a bit annoyed because I saw a social media post from Bein about the title race and it only included the top 3. We are still in this!
We are not. We had plenty chances to break into that Top 3, and we're still here. I don't need their sympathy by including us in the convo.
Let's first win tonight, and even then we are still 4,5 and 6 points behind. All of them won't lose more than 6 points. Meaning we already have to win everything, and its up to them to spoil more. Even in the best case scenario, we need many many things to go our way. It's theoretically possible that's how far I can go furthermore I agree with Edi.
Let's just get the 3 puntitos
We can talk about who will win the title in the last 3 weeks because this is going down to the wire.
But who can honestly raise their hand and say they haven't dreamed that all the games could go our way and we snatch the title.
Our classic line up, no surprises.
About what I expected. Would have liked to see Óliver for Rakitic, but the Jordan/Rakitic combo seemed to work well agaisnt Atleti, so it makes sense
Strong 11. But if every opposing team challenge is different why start with the same 11, haven't we got different weapons for different opponents, I'm not complaining if the best 11 solves everything but I'd like to see Oscar or Oliver for Rakitic now and again.
I don't know Chris. It's very unlikely we're gonna win the league and I don't think we're in contention. Always next year tho
As long as we respect the opponent, we should be fine. It's in these games that we tend to drop the intensity, and that boring, slow, possession game rears its ugly head again.
Strong lineup and hopefully we can keep our momentum going. It would be nice if we could beat our 70 points total from last season. Vamos!
We aren't mathematically eliminated, so we should at least make the screenshot when they are talking about the title. It is more about the stigma of the big three I think. No one else can dare enter their realm.
Body language in the tunnel was a bit weird. I hope I am not reading too much into body language.
Hasn't been a great start. Cross blocked by DC for a corner. We can't seem to keep possession as we normally do.
Beautiful Header, from an Acuna Corner. Positional not a good start, but hope this helps us get into it.
Amazing header from Koundé. That's what happens when we preform an actual corner kick rather than just playing it short
On the other side, Celta on the unlucky side. What a scramble, doesn't go in tho.
I thought the cross by Ocampos was out before we won the corner. Got a bit lucky there I think.