Banega makes it 2! I think this ref is a secret Sevilla fan haha!
Kounde on for De Jong!

Well the commentator on my side said it's not a penalty. Maybe the rules change?
Anyway one step closer to secure top 4.
Yes, his footsool touches Jordan, But the ball was loose, Jordan doesn´t have it. Lago Junior puts his foot there, also protecting the ball, and Jordan runs in under his footsool and then trembling over it, without actually going for the ball. Im mindblown or delusional
Mine did say it was a penalty, however I disagree. Not sure what they are seeing but what i´m seeing is no penalty at all.
As expected, Jules Koundé best attacking substitute we have.
Kounde seems to be a better attacker than De Jong.
3 more very valuable points, and another clean sheet.



Did Kounde actually go up top when he came on then?
3 points is all i ask for. We didn't really have that great of a game. Prolly played 20 good minutes?
I prefer Ocampos on the left. Didn't take the best of shots, but at least they were shots on target. Our movement in the attacking third is so different when De Jong is off. Luuk must be the easier forward to defend against.
We finish the year in 3rd. Who would've thought? And who sold their soul for us to have such a nice away record?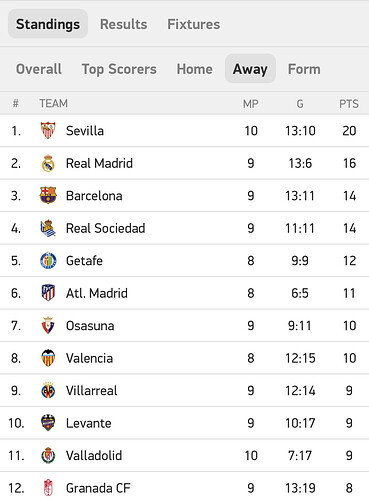 Nah i was trolling. He played RB / RCB, and actually made some decent runs. I think he should start there for our difficult games in the 2nd half of the season.
Maybe Emery can come back as a RSP only coach.
Maybe it's just me but I always thought that our team won those three Europa League's despite Emery rather than because of him. His record elsewhere before and since would seem to suggest I might at least in part be right.
We really rode our luck there.
I can't help think that if Mallorca hed made more use of Take Cuba they would have won this, he beat Reguilon every time down the right.
It seems that the other players have finally run out of patience with De Jong I don't think anyone attempted to give him the ball today. Kounde was far better than him in attack
Just seen the highlights, I'm slightly sceptical their "goal" was offside. Looked like the blokes arm was in an offside position and I didn't think you could be offside with your arm?
Any playable part of the body and it's off, so in this case it was his shoulder. Really tight call, especially since it barely touched the heel of his teammate that ruled him off.
I feel it's been like this for some time. There's a different energy about them when he's off the pitch.
A great way to end the year. Couldn't watch the match but it's great to see that we won, along with the comments here.
Saw the highlights and that miss from Lago Junior was something… However, with Ocampos on the pitch it feels that we're a different team, much more threatening.
I still think though that we need a better coach for the near future.
Villarreal done us a favour beating Getafe yesterday, so we remain 4 points above them. Would be nice for Betis to at least get a point against Atletico Madrid today.
I agree. If Atletico and Sociedad slip up today, will be the perfect weekend before Christmas

Valencia also dropped points too!
Bilbao taking something from Real Madrid wouldn't go amiss either.