Originally published at: http://monchismen.com/leganes-away-copa-del-rey-semi-final-1st-leg/

Since 2006 Sevilla FC have participated in 5 Europa League (2006, 2007, 2014, 2015, 2016) and 6 Copa del Rey semi-finals (2007, 2009, 2010, 2011, 2013, and 2016). A total of eleven semi-finals in twelve years. Tonight makes that 12 out of 12… an incredible achievement for any club in World Football, I am sure no one can deny.
However, there will be no time for congratulatory slaps on backs just yet. We have on paper a tie that we should win, especially over 2 legs, but the worst thing we could do is take Leganes for granted. Not only did they manage to knock out Real Madrid in the Quarter Finals, but they also knocked out Villareal in the round before! Cup games over 2 legs are designed to stop these kind of upsets, but Leganes have passed this obstacle with flying colours and deservedly belong in the semi-finals.
Not to mention their impressive league form, which sees them sitting 11th in the table, only 5 points worse off than we are. They have only lost 2 league games at home all season, one of those to Barcelona! All in all, hardly evidence of the massive gap in quality that some would believe! Sure, they were the preferred opponents when compared to Barcelona or Valencia, but they will no doubt create some problems for us, and we will need to be at the same level or higher as we were against Atletico if we want another Final to look forward to in Feria week.
Our last Copa del Rey semi-final was in 2016, when we destroyed an in-form Celta Vigo 6-2 on aggregate. A 4-0 first leg victory all but ensuring our place in the final before Celta even had a chance to play us at their home. A repeat performance tonight would be welcome, yet unlikely.
One striking thing that stands out though is how much our playing squad and management team have changed so much since then, and despite it being as little as 24 months ago only Sergio Rico, Escudero, Banega (who since left and returned), Nzonzi, Carrico and David Soria remain. There is no escaping the fact that we have had, and continue to have, an insane amount of player turnover. Quite how we can still keep competing at such a high level despite all these changes is truly astounding.
Squad list for tonight: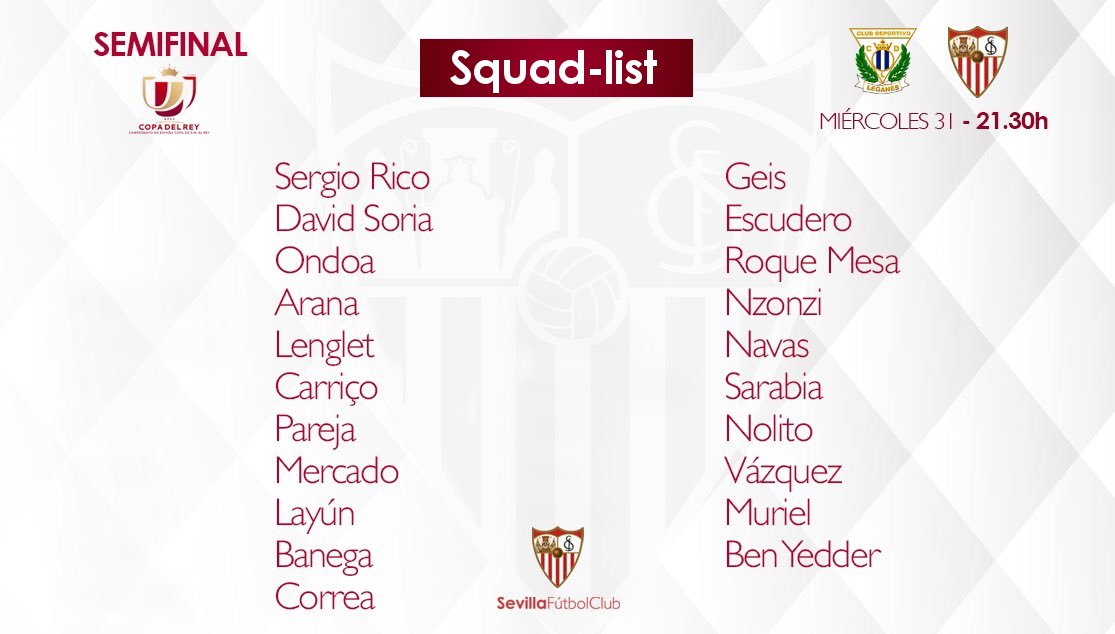 Some stability in terms of personnel at the club would be very welcome, but for now the revolving door continues, and we traveled to Madrid with exciting new arrivals Guilherme Arana, Layun, and Roque Mesa all in the squad. Whether or not any of them will start is uncertain. Corchia is still missing with injury, so Layun is a potential like-for-like swap there, although Navas may well keep his place. Carrico and Pareja are also back as defensive options. We have 4 centre backs to choose from, Kjaer not being one of them. I wonder if our coaching team have seen enough to know he won't be featuring again soon?
As for the starting XI, I suspect that Montella won't tinker much, as he has found a winning (Getafe match aside) formula, and if he keeps the same XI as the last Copa match I'll be happy with that.
Over the past 12 years many coaches and players have come and gone, but our reputation as a 'Cup team' amazingly remains intact, and tonight we could take one big step towards our dream of another chance to lift the Copa!
Score prediction 2-2
¡VAMOS MI SEVILLA!