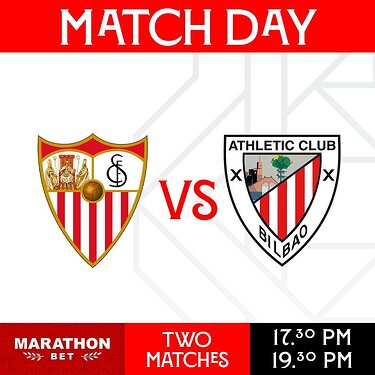 Our final matchup in pre-season will be a double-header against Athletic Club.
Here's our starting lineup for match #1: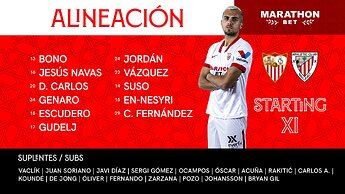 #VamosMiSevilla
I've got the same commentary in direct just six seconds of difference. Bit of a patchwork starting 11, can't say I've seen Carlos Fernandez touch the ball. But anyways, looking good.
I like how Carlos Fernandez is possession focused tho, he doesn't give away the ball stupidly.
Looking a lot like a 4-2-2-2 when on the ball. Suso seeing a lot of it and creating good passing angles. Mudo had a good look, but not much clear chances so far.
Two best chances for Bilbao first quarter one on the crossbar.
Another long range goal by Escudero
Specialty for sure, or for him a casual goal

We were looking like we lost the early impetus but in no way inferior and always looking to move forward. Gudelji continues to grow, for me.
I was just telling myself that Escudero can't be our LB cause he doesn't do enough…
Then he fires a bomb.

He doesn't do the typical left back things haha he does other stuff like bombing
I know, it's a bitch. I don't care if he's first or second choice there, but I'd like him to stay.
1-1
Suso appears to have committed a silly penalty.
What a dumb challenge from Suso
Suso gave away a penalty after trying to recover after Genaro's mistake.
Carlos Fernandez some good defensive contribution then Suso, typical attacker doesn't know what he can afford and fouls for a stupid penalty.
Commentator says "it wasn't Diego Carlos this time."

The shirts looking like a wetsuit. They don't colour so well with sweat…
I won't be here for the 2nd half. But will likely return for the 2nd game.
Fair comment, but made me laugh.